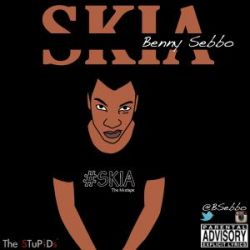 INTRO:
In The Building y'all
BeNation is in The Building y'all
Aaaaahh! BS
VERSE I:
Skia!
My waves via
Flow Rolls Royce y'all niggas on Fiats
Pull up like a voice that means y'all hear
I had to come back with this shit, dia-rear
Yeah!
Daily get daily parts, Benny got Benny guts
I stick to my faith you know many got many Gods
You can never tell, who can never tail
But most of y'all competing about who can name hotels
I'm sorry I'm just honest, I only lie in beds
She says shoes define us, she heels with no meds
I could play with words it don't mean words play
And I'm not even gonna rhyme with that, fuck it
OK you know I show off,
coz nigga I'm the man right now
BeNation getting bigger like a band right now
I could take shots like a lens right now
So all y'all chickens put your hens up now
Oh Ben,
Now that's murder boy
Make the population dense like Shmurda boy
Even if there's no one left we gon turn up boy
I'm the nigga that deaf people heard of boy
Boy I spark like gas on me
Be a good sport I'm Gatsby mate
Your girl is the bomb she blast for me
Coz you are just wrong like blasphemy
HOOK:
So you just watch me, watch me
Silly haters watch me
It's silly you can't stop me
So watch me, So Watch me
Watch Me x2
Silly haters Watch Me, it's silly you can't stop me
So Watch Me
I see you watching, coz you can't stop me "x2"
So all you silly haters Watch Me
VERSE II:
Siko mjini ka jini anaetanga tanga
Mi ni mkristo ila nasaka madini majanga mganga
Unajikuta matawi uko wealthy mi nna panga
Sio uchawi mi nakula healthy, wanga
Safari Concord mi ndo pilot so beware
Mistari stone cold suicidal, jiuwe
Tamu ka poro, staki Banana ka Zorro
Nafanya yangu nikiwa solo,
Sifanyi zamu kuwa mtoro
Okay now back to the flow,
Flow ya kustarehe
Ofcourse nina show ka hatua ya kubalehe
Sipanic niko sure, shua kama rich kid
It's funny nina pua ka mvua ambayo haiishi
Siwezi nyoa kiduku ka kuku anaecheza raga
Mi ndo Mr Cool Cool, ila we unataga
So why uwe unanuna ka una uchungu wa uzazi
Jiulize, Maisha ni nyumba je, Mungu ni mpangaji?
HOOK:
Nauliza mko wapi mko wapi
Mi niko Ilala mko wapi
Mmejificha wapi
Mko wapi x4
Mi niko Ilala mko wapi
Mmejificha wapi mko wapi
Nauliza mko wapi Mmejificha wapi x2
Me niko Ilala mko wapi ...
Read More...
Welcome to Mkito.com's new look. Let us show you around...
This is a song. You can see the image, song name, artists and you can interact with it by previewing, downloading or sharing it with your friends.
To listen to a 30 second preview of any song, you can click the preview button under the name of the song.
If you want to go through all the artists we have here on Mkito, you can click here to browse through our artists lists.
To look through our music by genre, you can click here and select a genre of your choice.
To download a song,you can click on the download button of the song you like. You must be logged in to download a song.
If you have an account with Mkito, you can sign in by clicking this link, which will open a popup window.
To use your email address or phone number to log in, click this button.
Enter your details and click the button to log in.
Or create a new account here
If you don't have an account with Mkito, you can sign up by clicking this link, which will open a popup window.
To use your email address or phone number, click this button,which will take you to the registration form.
To register as an artist, click here.
Type the name of the song or artist you would like to find and submit
or login using your social media account