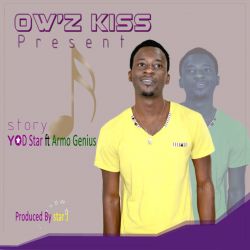 Verse1Shawty I gat a new temptation my ex girl friend says she wants solutionNilivyo lost na kudrop alisepa mbali siwez kuamin kama ana lov za ukwelHizi ni tell za kitaa*2Nilifall inlove sana japo tabia zangu zilikua ni za laanaSacrifice ma soul daily meditation na sina controll kitaan over racing akaondoka na kuelekea faf awaySiwez kumlaumu ni kosa langu by the wayUkatokea na kunitreat better hukujal nilivyo kivuruge na hardcore nakupa love kiukwel galVumilia nami tumetoka mbaliToka enz Avserna had leo shwarCheck wengine wana diss na bado wana failCHORUSBaby I know I'm gonna be with youNioneshe ulicho nacho nijue ma loveNow I know this is more than love Now I know nioneshe ulichonacho my boo that's all.Verse2Shawty nime suffer toka long mi najua tu kupendwa nishaumizwa honey am so afraid usinione muhunWatu wanabonga sana kuhusu ya zaman nishapita gensta gensta maisha ya mtaa yamenifanya kuwa chaser Kitaan wana kaa mimi sifi njaaHii collabo na wewe wana admire check wana diss kwamba tuta expire wanaongea kila nacho fanya dailyTalk too much wanabakia na gere nakupenda sana sijui kwa niniAu kisa zile swagg za extra madin no mi nahis kutoka moyonWana suprise na kuuliza why hawajui we are diamond in the sky.CHORUSVerse3Saa ingine penz hugeuka chuki na mwanzon mlikua marafikNa pata tu pain afu fast na roll nawakilisha wote walio rise na fallNina wasi was utanipenda nikiwa dealer je still utanipenda hata nikiwa jela jesus hebu hepusha hili gurudumuLove siku hiz imegeuka kua pumuPenz lakko is my addiction sihitaj hizo damn superstitionI'm dreamer shawty naboresha shawty mapenz sio act we jua ni imanNa mapenz yamelaaniwa toka zaman.Chorus. ...
Read More...
Welcome to Mkito.com's new look. Let us show you around...
This is a song. You can see the image, song name, artists and you can interact with it by previewing, downloading or sharing it with your friends.
To listen to a 30 second preview of any song, you can click the preview button under the name of the song.
If you want to go through all the artists we have here on Mkito, you can click here to browse through our artists lists.
To look through our music by genre, you can click here and select a genre of your choice.
To download a song,you can click on the download button of the song you like. You must be logged in to download a song.
If you have an account with Mkito, you can sign in by clicking this link, which will open a popup window.
To use your email address or phone number to log in, click this button.
Enter your details and click the button to log in.
Or create a new account here
If you don't have an account with Mkito, you can sign up by clicking this link, which will open a popup window.
To use your email address or phone number, click this button,which will take you to the registration form.
To register as an artist, click here.
Type the name of the song or artist you would like to find and submit
or login using your social media account