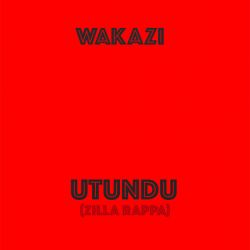 INTRO:Hey yo Q, this guy made a career imitating 50 Cent & singing on AutotuneLet's try that shit.. You never know, we might make a hit song!! HahahaaDot be mad Tito, it's the law, Harmo Rapa word up!!! Luffa, Sabuka MusicCHORUS:Nakuzidi utundu, utunduNakuzidi utundu, utundu Nakuzidi utundu, utunduIwe Verse au Freestyle huwezi nipata.... VERSE:Una uwezo sifuri bashize/Mi naweza freestyle, na mfano mzuri ni hii verse/Mi nina uwezo Sifuri, wa Westbrook/Rap nguli, na hi sio hata my best look/I been a warrior before KD/I know you worry now, messin with a real MC/Unasingizia freestyle daftari la verse empty/Mi Juma nature, nakugawia salio la verse/Miamala kila Mara, bidhaa kibiashara/Mixtape, EP na Album, masihara/Believe you me, wala sina/Catch me online, gmail, wakaziwavina/I got the power, point ka Michael wa Guinness/On the Mic you Soft, Word, I ain't talkin Bill Gates/Lyrics got horsepower, kama engine ya V8/Only power you got, ni series ya fifte/Niite power Mabula, Power Iranda/We ni cartoon rapper, aka power ranger/Too colorful, Clown rapper, daily ujichekesha/Kama karafuu, ya Zanzibar, daily nakinukisha/This is chess not checkers/Na ukidhani hii ni diss song, hahahaha, nakucheka/This is a victory song, it's vivid we strong/Back to regular scheduled programming like the TV is on/OUTRO:Ooh it's on.... !!Huyu jamaa vipi babu, huyu jamaa anawadanganya kuwa ana freestyle, I mean kwenye Radio, kwenye Twitter, Diss track, he kept saying Esther Wasira, Halima Mdee, Mary ChaleHow is that a freestyle?! ka sio written raps anafanyia mazoezi...kiufupi HaniweziI'm fresh off tour man... Bado nna uchovu uchovu.. Sikupanda ndege nilipanda Zuberi. U know, I'm humble.. HahahaAmani sana kwa wana wa Nyamongo, Sirari, Tarime, Mugumu... Kanda Maalum hiyoBariadi, LamadiShinyanga, Kahama (Buzwagi), Kaloka (Bulyanhulu), BusisiNimepanda hadi pantoni mkoani maaan. Geita word up, MwanzaI don't know man Hii ni Zillnass, Zillnass part 2, au tuiite Zillah-Rapa ( aka utundu) maana namzidi. Shoutout to the real niggas in salasala, Ukonga stand up, holler!!! Beware of Kisimani Album baby... Bakora, Hapa Wakazi Tu, Nabebwa na Biti, oh Nimezama, Moyo, Kwanini, kila Siku... ...
Read More...
Welcome to Mkito.com's new look. Let us show you around...
This is a song. You can see the image, song name, artists and you can interact with it by previewing, downloading or sharing it with your friends.
To listen to a 30 second preview of any song, you can click the preview button under the name of the song.
If you want to go through all the artists we have here on Mkito, you can click here to browse through our artists lists.
To look through our music by genre, you can click here and select a genre of your choice.
To download a song,you can click on the download button of the song you like. You must be logged in to download a song.
If you have an account with Mkito, you can sign in by clicking this link, which will open a popup window.
To use your email address or phone number to log in, click this button.
Enter your details and click the button to log in.
Or create a new account here
If you don't have an account with Mkito, you can sign up by clicking this link, which will open a popup window.
To use your email address or phone number, click this button,which will take you to the registration form.
To register as an artist, click here.
Type the name of the song or artist you would like to find and submit
or login using your social media account