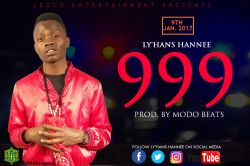 [Intro]Hehehe Ly'Hans (Hannee)KitaLegend homie, nimerudi kama kawaAah mane, nimerudi hewani mane round twoYou know what it do homieAah Turn me up on the mic homie,Twende kazi (twende kazi), KitaLegend homieHii ni ile wakati wa wanati[Hook]This year nina take overLast year I planned this coupRaundi hii watiaji wataumia Raundi hii, state of emergency 999 halo 999999 piga 999999 999 999Watapiga 999[Verse I]Kwa game nimekula chumvi Ju vitu mi huspit ni kali Mi ni pilipili hao wengine bado chumvi Ly'Hans am always tryna be great like Cali Yani Leo ni leo msema jana ni mleviKesho ni kesho msema leo ni mkweli Heavy weight, nakomaa kiakili sio kimwili Graduated from player to referee Ju mi ni jemedari, era ni legendary Pave way Nakam ka kikosi Nyenyekea nyuma ka mfuasi Niko show biz , am tryna show me the money 999 halo 999 , 999 watapiga 999 It's the rumble in the jungle Hakuna kuomba , sai ni kuchukua Watiaji wanalia, ju milango nafungua Sibabaiki , sitishiki that's whyNazidi bisha kwa ubishi [Hook][Verse II]Fresh man , am fresh on patrol like a rookie Presidential rollie homie ,Picture me rolling homie Kodak Black, make me a perfect picture homie Picture perfect, cameras flashing homie Hii ni wakati wa wenye ujuzi kuenda far ,Na pia wakati wa wenye upuzi kulala njaaWas to take over ,sorry for the delayed flight Sai nadai visa Ya kucatch flights Sidai visa vya kucatch fights Jabali , nina uzito kwa mizani Heavyweight, design Ya ThrillA in manilla Nataka pesa , mulla on my medulla One man army , am taking over the barracks I ain't the new kid on the block Am the new kid whose gonna rock Nisha touchdown, rappers wako under lockdownLocked up, messed up, f**d upCommander-in-chief,Lova sosa, bang bang like Chief Keef[Hook][Outro]Ah si unajua kama kawaLy'Hans on the mf log out homie,KitaLegend homie, Sorry for the delayed flightAah Hehehe*END* ...
Read More...
Welcome to Mkito.com's new look. Let us show you around...
This is a song. You can see the image, song name, artists and you can interact with it by previewing, downloading or sharing it with your friends.
To listen to a 30 second preview of any song, you can click the preview button under the name of the song.
If you want to go through all the artists we have here on Mkito, you can click here to browse through our artists lists.
To look through our music by genre, you can click here and select a genre of your choice.
To download a song,you can click on the download button of the song you like. You must be logged in to download a song.
If you have an account with Mkito, you can sign in by clicking this link, which will open a popup window.
To use your email address or phone number to log in, click this button.
Enter your details and click the button to log in.
Or create a new account here
If you don't have an account with Mkito, you can sign up by clicking this link, which will open a popup window.
To use your email address or phone number, click this button,which will take you to the registration form.
To register as an artist, click here.
Type the name of the song or artist you would like to find and submit
or login using your social media account