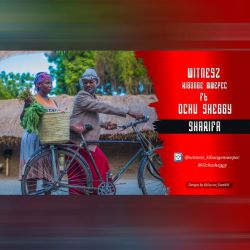 Dada; Habari baba ,Baba yangu shikamoo nimetoka zangu shamba, nimepita niwape salamuBaba; marahaba mama vuta kiti uketi umefanya vyema sogea huko kuna moshiDada; nimepata taarifa unapanga harusi umuozeshe sharifa haitopita wiki Baba; yaani ni kama bahati, kapata mchumba mapema ila mwenyewe hataki ameng'ang'ana kusomaDada; hilo ndo jambo nnataka tuliongee kama mwanao nnaomba uniskieDada;uliniozesha mapema ndoto nazo zikafa tena sina uwezo wa kusoma tena kama sharifa watoto watatu majukumu yamebana ili kuilisha familia yanipasa nilime sana,ndo maana nnakusihi baba mwache asome sharifababa; wewe we acha kuongea ujinga weweeDada;sababu nini pesa au umaskini utamaduni ama udini?Baba; aaakhaa kumbe na wewe ndo wale waleDada; nimekuja kwa amani mwanao,maumivu ya moyoni niliyopata zamani pamoja na huzuni, je mi ni mzigo kwako usio thamani nilidhani mtoto wa kike hasikilizwi japo analo la kusema,nnakusihi baba mwache sharifa asomeChorusBaba; sasa elimu hainaga mwisho dada; mwache asome eeh!Baba; unataka azeekee shule dada; muache asome eeh!Baba; amepata mchumba mwenye hela dada; muache asome eeh!Baba;unataka si tufe mafukara? dada: muache asome eeh!Dada; usimuoze sharifa na kurudia historia nnajua bado mdogo atashindwa kuongea,tusiendeshe familia kwa yale mazoea, tuwalinde watoto wa kike na haki zao kuwapatia,na haki zao kuwapatia nafasi za kusoma,nafasi kuamua nafasi za kuona nafasi za ku.. akiwemo sharifa itanisikitisha sana ndoto zake zikifa coz anandoto za kuwa rubani, siku ifike upande ndege angani akupeleke ughaibuni akiwa kwenye usukani kama kepten hewaniBaba; mhhh! Acha uongo wewee Dada; nnahakika akisoma atakuja iokoa familia nnaomba mpe nafasi akihitimu ataolewaBaba; akhaa sasa kwahiyo umesema ataendesha ndege kabisa Dada; ndiyo babaBaba; halafuu huyu sharifa huyu anaweza kuwa daktari huyu? Dada; ndiyo baba baba; halafu kwa maana kwamba akisoma vizuri ataweza kunilipia na mimi huduma za matibabuu akanihudumia mimi vizuri kama baba yake? Dada; ndiyo baba baba; halafu kisha akimaliza shule ndo niweze kumuozesha? Dada;Ndiyo babaBaba; sasa ata atakubali kweli huyu nikamuozesha baada ya kumaliza shule Dada; baba atakubaliiiBaba; akhaa kama hivyo sa haina shidaa, haina shida mi nimeisha kuelewa unajua mwanzoni nilikua sijakuelewa vizuri eeh eeh mama hehehehe yaani haina tatizo kabisaBaba; We Sharifa wewe Sharifa; bee baba baba; hivi ulifua nguo zako za shule wewe? sharifa; eeehh baba; sasa unasubiri nini? Halafu mbona mnapenda kuchezea elimu nyinyiiiKibwagizo; Muache asome eeh, nnataka asome mwanangu nnataka asome muache asome eeh, ni kweli kabisaaaMuache asome eeh, ndiyo muache asome eeh, ...
Read More...
Welcome to Mkito.com's new look. Let us show you around...
This is a song. You can see the image, song name, artists and you can interact with it by previewing, downloading or sharing it with your friends.
To listen to a 30 second preview of any song, you can click the preview button under the name of the song.
If you want to go through all the artists we have here on Mkito, you can click here to browse through our artists lists.
To look through our music by genre, you can click here and select a genre of your choice.
To download a song,you can click on the download button of the song you like. You must be logged in to download a song.
If you have an account with Mkito, you can sign in by clicking this link, which will open a popup window.
To use your email address or phone number to log in, click this button.
Enter your details and click the button to log in.
Or create a new account here
If you don't have an account with Mkito, you can sign up by clicking this link, which will open a popup window.
To use your email address or phone number, click this button,which will take you to the registration form.
To register as an artist, click here.
Type the name of the song or artist you would like to find and submit
or login using your social media account