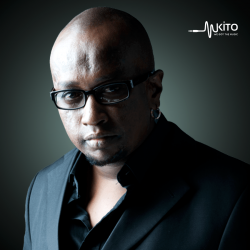 Aaron Rimbui (born Harun Kimathi Rimbui, October 15, 1979, in Kenya) is an innovator in East African music.In 2005, Rimbui released his first album, Keys Of Life. It was the first known jazz piano album to emerge from East Africa and in 2009, he followed it up with Alfajiri.In February 2016 the self-taught pianist, keyboardist, drummer, bandleader and composer and program host of The Capital Jazz Club, Kenya's longest- running jazz show – released Deeper, his third album. In it he unveils a new focus on the classic piano trio format, adding subtle touches of voice, percussion and guitar to lend textural variety to his overall sound.From 2009 through 2013 Rimbui was music director and bandleader of Tusker Project Fame, one of East Africa's top-rated television talent shows.Rimbui was named music director of the Safaricom Jazz Festival, Kenya's first international jazz festival, in 2014. He's also founded the concert series "All That Jazz", "Piano & Voice" and "The New Standard Jazz Sessions" in Nairobi. Over the course of his career, he has performed at such prestigious gatherings as the Jahazi Jazz Festival in Zanzibar, the Sierra Jazz Festival and the Winter Jazz Festival in Copenhagen as well as outings in Los Angeles, Washington D.C, Seattle and Las Vegas among many other cities in the U.S.A. He was Kenya's representative to the International Jazz Showcase in Jerusalem and Tel Aviv, Israel.Having opened concerts for well-known artists including Hugh Masekela, Richard Bona and Gerald Albright, and having performed with Lionel Loueke, Sauti Sol, Morris 'Mo' Pleasure, Jimmy Dludlu, Dwele, Benjamin Koppel, Moussa Diallo and Maurice Kirya among many others, Rimbui has earned his place in the forefront of contemporary East African musicians. ...
Read More...
Welcome to Mkito.com's new look. Let us show you around...
This is a song. You can see the image, song name, artists and you can interact with it by previewing, downloading or sharing it with your friends.
To listen to a 30 second preview of any song, you can click the preview button under the name of the song.
If you want to go through all the artists we have here on Mkito, you can click here to browse through our artists lists.
To look through our music by genre, you can click here and select a genre of your choice.
To download a song,you can click on the download button of the song you like. You must be logged in to download a song.
If you have an account with Mkito, you can sign in by clicking this link, which will open a popup window.
To use your email address or phone number to log in, click this button.
Enter your details and click the button to log in.
Or create a new account here
If you don't have an account with Mkito, you can sign up by clicking this link, which will open a popup window.
To use your email address or phone number, click this button,which will take you to the registration form.
To register as an artist, click here.
Type the name of the song or artist you would like to find and submit
or login using your social media account