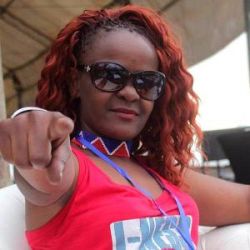 L-NESS BIO
L-NESS alias LIONESS is a Hip Hop Cultural Specialist, a PanAfrican Femminist and a top lyricist and performing femcee of Hip Hop in East Africa.
Her first album is Titled SIMANGWE and the theme is ''Don't Stop the Music'. One of the songs in this album is being used by Music Copyright Society of Kenya as their campaign theme song against piracy and artist exploitation.
Her second album is titled GAL POWER and it is about women empowerment. Its launch was at the Goethe Institute Nairobi on the 21st of July 2012. The content of her lyrics in this album advocates for women to speak up for themselves and be the voice of the voiceless in society.
Her third album is titled PUNCH since it is a mixture of sounds, rap styles and producers, thereby being versatile enough to accommodate all kinds of fans, both hardcore, old school, no school and new school.
She was a Judge during the African Hip Hop Caravan Inter-varsity Debate Tournament, on Hip Hop and Democracy on the 27th of November 2014.
She facilitates workshops in schools and in the community to discuss about Hip Hop, its connection to our African ways of storytelling, and the proper use of Hip Hop elements and principles.
She also Translates poems into Sheng, her latest being Sitawa Namwalie's poem titled "The Chase".
She is featured greatly in major documentaries, one with Hip Hop artist, TUMI from South Africa about the development of Hip Hop in Africa and the other is The Spoken Worlds Documentary, whereby she was part of the team that traveled to Berlin in April this year for a series of panel discussions and performances in a literary exchange project between Kenya and Germany.Thirdly is the "Sauti za Mitaa" project with MC Kah and Maono cultural group, representing voices from different area codes.
CHECK OUT HER LATEST VIDEO FEATURING OTHER FEMCEES IN KENYA, AND HER BLOG INTERVIEWS IN THE FOLLOWING LINKS:
• http://vibeweekly.com/latest-news/2469-rabbit-s-ligi-soo-remix-finally-gets-an-answer
• http://hiphopkambi.wordpress.com/2014/06/03/interview-lness-lydia-akwabi/
• http://storymojafestival.com
/speaker-lineup/l-ness/ ...
Read More...
Albums
| Show all albums
Welcome to Mkito.com's new look. Let us show you around...
This is a song. You can see the image, song name, artists and you can interact with it by previewing, downloading or sharing it with your friends.
To listen to a 30 second preview of any song, you can click the preview button under the name of the song.
If you want to go through all the artists we have here on Mkito, you can click here to browse through our artists lists.
To look through our music by genre, you can click here and select a genre of your choice.
To download a song,you can click on the download button of the song you like. You must be logged in to download a song.
If you have an account with Mkito, you can sign in by clicking this link, which will open a popup window.
To use your email address or phone number to log in, click this button.
Enter your details and click the button to log in.
Or create a new account here
If you don't have an account with Mkito, you can sign up by clicking this link, which will open a popup window.
To use your email address or phone number, click this button,which will take you to the registration form.
To register as an artist, click here.
Type the name of the song or artist you would like to find and submit
or login using your social media account