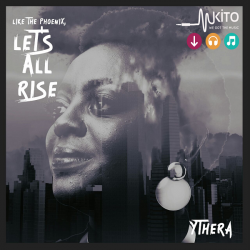 Music is soul...an expression of the things that cannot be spoken. For me it comes from the heart, and mine has a lot to say. Music has always been my release from the excesses of this life, a safe haven when all else fails. I am Ythera, a lover of all things musical.rSinger-Songwriter Ythera was born September 1st 1992 in Nairobi, to a not-so musical family, but somehow music found a way to warm itself up to her. "From a tender age, I always knew that what I wanted to do was sing and inspire people with my music but I was always too shy to do it. But later in high school, I joined the school choir and from then on I decided that I would not let go of my talent", she says.rYthera describes her sound as Soul Afro Funk. Inspired by Afro Fusion, Jazz, R n B, Funk and Neo Soul, Ythera's eclectic, vocally skillful and soulful, heavy on the bass, groovy sound is a sure way that she has won her audiences hearts all over stages in NairobirShe aspires to create socially conscious and relatable music, often writing about love, politics and the in-betweens. If she had a slogan it would be "Music with a message." "I want my music to inspire and entertain people, and at the same time carry across a message. I want my music to have a distinguished presence in the Kenyan, as well as the global music scene."rYthera released her debut single, Kijana, on Valentines Day eve 2014 off her upcoming album. She features her band in this love ballad that talks about a young lad that has confused all her senses with his mannerisms and charisma. She describes the song as Doo-wop meets Reggae meets Soul. She also released her second single, Ahadi Ahadi, on June 13th 2014. The message in the song rings clear, urging politicians to heed to their promises, talk less and do more.rShe says "I believe that music is a continuous journey of reinvention and self-discovery; it is a way of expressing my deepest feelings and thoughts to other people. Music makes me happy, and if I am able to share this happiness with others then I am content."r ...
Read More...
Welcome to Mkito.com's new look. Let us show you around...
This is a song. You can see the image, song name, artists and you can interact with it by previewing, downloading or sharing it with your friends.
To listen to a 30 second preview of any song, you can click the preview button under the name of the song.
If you want to go through all the artists we have here on Mkito, you can click here to browse through our artists lists.
To look through our music by genre, you can click here and select a genre of your choice.
To download a song,you can click on the download button of the song you like. You must be logged in to download a song.
If you have an account with Mkito, you can sign in by clicking this link, which will open a popup window.
To use your email address or phone number to log in, click this button.
Enter your details and click the button to log in.
Or create a new account here
If you don't have an account with Mkito, you can sign up by clicking this link, which will open a popup window.
To use your email address or phone number, click this button,which will take you to the registration form.
To register as an artist, click here.
Type the name of the song or artist you would like to find and submit
or login using your social media account