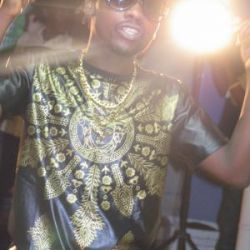 SAMUEL Born (December 5TH 1989). A YOUNG Kenyan living in NAIROBI and with a passion for reggae and dancehall music is also a singer/songwriter and a businessman. His fellow friends and fans know him as GUSTO for his energy when it comes to music and to the world he is known as GUSTO MUSIC.

BIOGRAPHY:
\'GUSTO\', the first born in a family of two, followed by a younger sister, Terry. Was exposed to a wide variety of music from when he was a child. He loved all types of music ranging from hip-hop, to rock music, to jazz among other sounds but loved reggae and dancehall music than any other genre. When he was young he used to listen to reggae music during the days of Bob Marley, Peter Tosh, Culture, Burning Spear, Sanchez, Glen Washington, Luciano and on most nights he would stay up singing their lyrics, memorizing them and would later perform them as entertainment to his close friends.

EARLY CAREER:
As an artist, he loved music and would practice his skills during the weekend when he met with friends where they would listen to different types of music to build their lyrical structures and know what music was all about. As he grew up, he made friends who were also in the music business who encouraged him and told him that he had skills that he could perfect slowly as he came up. They were also into reggae and dancehall music but their favored choice of genre was hip-hop.

\'GUSTO\' recorded his first song immediately after high school ,called \'REAL LOVE\' (LOVERSROCK MUSIC) at Scratch Digital Records in 2009 where one of his friends took him to the studio to record.
A couple of years later, the artist got further involved himself in the music industry to further his passion for sound and enrolled in a course at Music Technology Academy (MTA) and received a certificate of merit in the field of Disk Jockeying from the HOMEBOYZ ACADEMY. In Layman terms, that simply means he\'s a great DJ, and good at it.

CAREER ROUTE:
Gusto\'s first song got positive feedback from fans, close friends, got played by deejays and received airplay on some of the radio stations who supported and encouraged the up and coming artist to continue making good music. The track pushed Gusto to realize that he had talent, seeing his work gain recognition as most radio stations and deejays evidently sampled his great sound. With support from family and close friends together with his hard work he continued to make more music. A year after his first release, 2010, came another Lovers Rock tune titled "ROYAL EMPRESS" which received more feedback from fans of the reggae and dancehall music culture, with great appreciation to my producer Mopheous AKA Robba who showed support at Scratch Digital Records Studio.(SDR)
His first album titled "SIMPLE XPRESSION" done in 2010, has nine songs produced by Mopheous at Scratch Digital Records Kenya. Currently he is recording at Hypemasters Entertainment , working closely with two producers he admires from way back, Dj Aaron and J - Zero who guide him through his musical career.

His most popular songs are \'Real Love\', \'Royal Empress\', \'Never Give Up\', \'Slim Ama Koro\', \'To The Top\', \'Club Vybez\', \'Casanova\' just to mention a few.

COLLABORATIONS:
GUSTO is currently working on his second album soon to be released. The new project will have Brand new singles, featured collaborations from artists based here in Kenya, different countries in East Africa among other great international acts from around the world.
With a bright musical journey ahead for this musical genius the skies aren\'t going to be the limit for this fast rising star.

CONTACTS:
FACEBOOK: https://www.facebook.com/GUSTOMASTERMASON

TWITTER: @GUSTOMASON

YOUTUBE: GUSTO

MIXCRATE: WWW.MIXCRATE.COM/ZJMASON

PHONE NUMBER: 0723341568
...
Read More...
Albums
| Show all albums
Welcome to Mkito.com's new look. Let us show you around...
This is a song. You can see the image, song name, artists and you can interact with it by previewing, downloading or sharing it with your friends.
To listen to a 30 second preview of any song, you can click the preview button under the name of the song.
If you want to go through all the artists we have here on Mkito, you can click here to browse through our artists lists.
To look through our music by genre, you can click here and select a genre of your choice.
To download a song,you can click on the download button of the song you like. You must be logged in to download a song.
If you have an account with Mkito, you can sign in by clicking this link, which will open a popup window.
To use your email address or phone number to log in, click this button.
Enter your details and click the button to log in.
Or create a new account here
If you don't have an account with Mkito, you can sign up by clicking this link, which will open a popup window.
To use your email address or phone number, click this button,which will take you to the registration form.
To register as an artist, click here.
Type the name of the song or artist you would like to find and submit
or login using your social media account