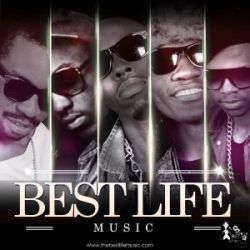 Best Life Music is the hip-hop in Burundi managed by Kent-P of African Sound Records.
Its members are individually known as Young Danny, IG Kiboko Young Jpy, Gms El Magnifico and Mc Vitaa.
History:
Best Life Music Sharing a passion for hip-hop, it was easy for members of Best Life Music to gel and craft a creative link that enables them to easily work on timeless music together.
Their music is an exciting and unique blend of hip-hop and Afro-pop.
They rap back and forth from English, Kirundi, French and Swahili, to reflect their origins in East Africa.
They infuse their sound with the use of engineering local, African and global to create lyrical magic that everyone can relate to references.
After the local success of "Never Sleep in collaboration with Matabaro Patient" which caused a stir on the music scene in 2013 Burundians with other songs like "Kenkelewa" in collaboration with Black-G has become another local favorite and still enjoys heavy airplay on Burundi. In 2012, Best Life Music starts well his music career after signing the contract with Kora Entertainment, their first Video "Big Pain" despite it has not been very successful, this the beginning, their only first song with Kora Entertainment came out with the video "Never Sleep" in collaboration with the winner of Primusic 2013, the song is well accommodate by the fans of the music of Burundi. In 2014 Kora Entertainment is partnering with the Label African Sound Records they made their first Collabo with Congolese singer Dety Darba (Happy People[3]) who was appointed as the official song of a Great annual event HAPPY PEOPLE edition 2014. Best Life Music has always records singles at African Sound Records. ...
Read More...
Songs
Welcome to Mkito.com's new look. Let us show you around...
This is a song. You can see the image, song name, artists and you can interact with it by previewing, downloading or sharing it with your friends.
To listen to a 30 second preview of any song, you can click the preview button under the name of the song.
If you want to go through all the artists we have here on Mkito, you can click here to browse through our artists lists.
To look through our music by genre, you can click here and select a genre of your choice.
To download a song,you can click on the download button of the song you like. You must be logged in to download a song.
If you have an account with Mkito, you can sign in by clicking this link, which will open a popup window.
To use your email address or phone number to log in, click this button.
Enter your details and click the button to log in.
Or create a new account here
If you don't have an account with Mkito, you can sign up by clicking this link, which will open a popup window.
To use your email address or phone number, click this button,which will take you to the registration form.
To register as an artist, click here.
Type the name of the song or artist you would like to find and submit
or login using your social media account