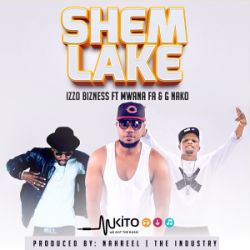 EMMANUEL SIMWINGA
Emmanuel Simwinga known as Izzo B was born on 25th Dec in Shinyanga, lived for a number of years in Mbeya. He has recently resettled in Dar es salaam.
Izzo began his music carrier at the age of 15, recording his first single at the age of 18. Izzo is a certificate holder in marketing management from the college of business education. Izzo got signed at MJ records in the year 2010 where he added a couple of hit songs to the list such songs are; Bizness feat sumalee, Tenzi za mapenzi feat shapsin. Izzo Bizness art reflects his remarkable ability to observe life as he sees it, combining the elements of humor, satire and realism to share those observations with his audience. His music is popular throughout Tanzania and well beyond.

Today his work can be found in varieties of media such as radio and Tv stations which can be considered as one of his achievements. In 2011 Izzo Bizness was nominated in 3 categories of Kilimanjaro music Awards, he was also able to share same stage with the famous rappers known as Ludacris and Busta Rhymes. Despite his success in his music carrier Izzo Bizness has an entreprenuerial mindset that pushed him to open up some investments such as a clothing store,a barber shop and secretarial service office.
Recently he has a number of hit songs, to mention a few; Riziwan feat Mwasiti, Barua Feat Dully Sykes, Miss Bizness Feat Ben Pol and AY, Ball Player Feat Ngwair and Quick Rocker,Utarudishwa Feat Belle9,Mwaka Jana Feat Shapsin, Love Me Feat Shaa and Barnaba.
As music industry in Tanzania grows Izzo Bizess is seen to be one of the commercial rappers who will take hip hop music in Tanzania into another level. ...
Read More...
Albums
| Show all albums
Welcome to Mkito.com's new look. Let us show you around...
This is a song. You can see the image, song name, artists and you can interact with it by previewing, downloading or sharing it with your friends.
To listen to a 30 second preview of any song, you can click the preview button under the name of the song.
If you want to go through all the artists we have here on Mkito, you can click here to browse through our artists lists.
To look through our music by genre, you can click here and select a genre of your choice.
To download a song,you can click on the download button of the song you like. You must be logged in to download a song.
If you have an account with Mkito, you can sign in by clicking this link, which will open a popup window.
To use your email address or phone number to log in, click this button.
Enter your details and click the button to log in.
Or create a new account here
If you don't have an account with Mkito, you can sign up by clicking this link, which will open a popup window.
To use your email address or phone number, click this button,which will take you to the registration form.
To register as an artist, click here.
Type the name of the song or artist you would like to find and submit
or login using your social media account