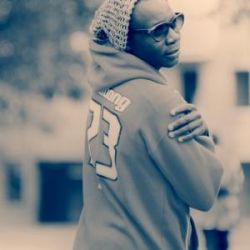 Shamsila is the young, talented Tanzanian one cannot compare to other popular artists. Sila is going deep within the Hip Hop style. Shamsila is inspired by Jay Z and has been doing music since primary school. He has performed throughout different schools in Arusha taking the stage in their various competitions. When asked about his talent, he says he has recognized it since he was a baby.
After completing his secondary level education in 2008, Shamsila began entertaining students and audiences, at the United African Alliance Community Center (UAACC), with his various rap songs. Through his involvement with UAACC he has also had the opportunity to meet and display his rap skills with bands including Warriors from the East.
By the end of 2010, Shamsila became a full-fledged performing artist with the release of his first hip-hop track "Hip Hop Never Die". One year later, Shamsila collaborated with different artists including traditional music singer Zanele (South Africa), Hip Hop artist Shango (United States), R&B singer Savanna (United States), Reggae style artist and drummer Lavosti (Kenya) and Jazz, Reggae and Hip Hop singer Mama C (United States and Tanzania).
Shamsila uses his skills and lyrics to address deep socio-economic struggle in modern day Tanzania. He has performed in regional festivals including Jambo and DOADOA festivals in 2013. While at DOADOA, Shamsila shared the stage with Mani Martin from Rwanda and Staph from Manchester, United Kingdom ...
Read More...
Songs
Welcome to Mkito.com's new look. Let us show you around...
This is a song. You can see the image, song name, artists and you can interact with it by previewing, downloading or sharing it with your friends.
To listen to a 30 second preview of any song, you can click the preview button under the name of the song.
If you want to go through all the artists we have here on Mkito, you can click here to browse through our artists lists.
To look through our music by genre, you can click here and select a genre of your choice.
To download a song,you can click on the download button of the song you like. You must be logged in to download a song.
If you have an account with Mkito, you can sign in by clicking this link, which will open a popup window.
To use your email address or phone number to log in, click this button.
Enter your details and click the button to log in.
Or create a new account here
If you don't have an account with Mkito, you can sign up by clicking this link, which will open a popup window.
To use your email address or phone number, click this button,which will take you to the registration form.
To register as an artist, click here.
Type the name of the song or artist you would like to find and submit
or login using your social media account