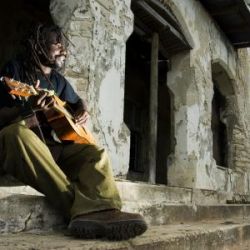 His name will come frequently when you ask about the leading musicians in Tanzania. This will make you think Jhikoman is an Artist who is big and full of himself, WRONG His humility will get you wonder. Soft-spoken artist popularly known as Jhikoman born Jhikolabwino Manyika adapted his stage name by picking the first five letters of his first name, with the first three letters of his second name, to derive the name Jhikoman.WATCH OUT, Jhikoman might just be the next great Reggae artist to represent Africa. SUNDAY MAGAZINE December 16, 2007 Nairobi, KENYA Tanzanian Singer/composer Jhikoman is one of the best reggae artists in Tanzania. Having toured internationally since 2003; Jhikoman has performed in well-known international music festivals such Mela in Oslo, Norway, World Village festival / Maalma Kylassa in Helsinki, Finland; Exeter Respect Festival in Exeter City-Devon UK and locally at ZIFF- Zanzibar International Film Festival, and Sauti za Busara in Zanzibar as well as Bagamoyo International Art Festival. This true son of Africa is honoured at home and abroad and has earned himself abundant recognition. In 2005, Jhikoman recorded "Chikondi" at Hausmania Norway and in 2008 recorded "Tupendane" at Studio Red in Finland. In 2009 Jhikoman collaborated with Udumood music Helsinki-Finland for the highly acclaimed album "Yapo". Jhikoman continues with his passion for song writing and energetic performances as he speaks for the voiceless and make his voice and music heard. Jhikoman promise to not only moves your feet, but also positively stir your mind and soul. Jhikoman's words carry a power beyond bullets. As he put it in the song Mental Chain from album Moyo Unadunda, Jhikoman emphasizes "No more bloodshed for our liberation…to free our own minds is the last and permanent solution ". Jhikoman music is available to buy and download online through iTunes, Amazon, and CDBaby. - See more at: http://www.jhikoman.com ...
Read More...
Welcome to Mkito.com's new look. Let us show you around...
This is a song. You can see the image, song name, artists and you can interact with it by previewing, downloading or sharing it with your friends.
To listen to a 30 second preview of any song, you can click the preview button under the name of the song.
If you want to go through all the artists we have here on Mkito, you can click here to browse through our artists lists.
To look through our music by genre, you can click here and select a genre of your choice.
To download a song,you can click on the download button of the song you like. You must be logged in to download a song.
If you have an account with Mkito, you can sign in by clicking this link, which will open a popup window.
To use your email address or phone number to log in, click this button.
Enter your details and click the button to log in.
Or create a new account here
If you don't have an account with Mkito, you can sign up by clicking this link, which will open a popup window.
To use your email address or phone number, click this button,which will take you to the registration form.
To register as an artist, click here.
Type the name of the song or artist you would like to find and submit
or login using your social media account