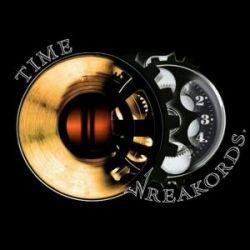 Time Wreakords is a record production trio based in Dar es Salaam, Tanzania. It consists of Tanzanian bred Robz, Kslo and Cezelini. The trio begun in 2005 in Canada, where Robz studying in Toronto at the time was doing Sound Engineering at IADT (International Academy of Design and Technology) and Kslo was doing the same at Trebas Institute. The two met through mutual friends and realized their common love for hip-hop, RnB and beats from the greats like Timbaland, Dr. Dre, The Neptunes etc. and voila, they have been working together ever since. Around the same time Cezelini a long time friend of Robz resided in Ottawa and through the visits he made to Toronto through out the time, a bond was made between the three and that bond is what is now known as Time Wreakords. Up until 2012 Time Wreakords was based in Canada but since then they have set up head quarters in their homeland Tanzania although Kslo still resides in Canada. In Canada they have worked with artists including Cuban, O. Dizzle, Young Sqweezy, Mizz Nyce, M-Deezy, Delta 14 and in Tanzania artists like Cliff Mitindo, Ciana, Fid Q, CPwaa, Julio and Wakazi can be heard on their beats. Beats that are heavy with synthesizers and thumping kick drums and a fusion of different genres that give them a rather unique yet a notable Hip-Hop feel. Loops and live instruments are part of their palette so you can expect a broad array of sounds. ...
Read More...
Welcome to Mkito.com's new look. Let us show you around...
This is a song. You can see the image, song name, artists and you can interact with it by previewing, downloading or sharing it with your friends.
To listen to a 30 second preview of any song, you can click the preview button under the name of the song.
If you want to go through all the artists we have here on Mkito, you can click here to browse through our artists lists.
To look through our music by genre, you can click here and select a genre of your choice.
To download a song,you can click on the download button of the song you like. You must be logged in to download a song.
If you have an account with Mkito, you can sign in by clicking this link, which will open a popup window.
To use your email address or phone number to log in, click this button.
Enter your details and click the button to log in.
Or create a new account here
If you don't have an account with Mkito, you can sign up by clicking this link, which will open a popup window.
To use your email address or phone number, click this button,which will take you to the registration form.
To register as an artist, click here.
Type the name of the song or artist you would like to find and submit
or login using your social media account