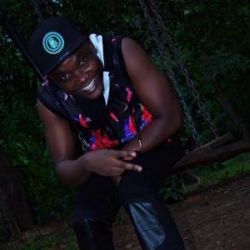 Biography
Frankline Omallah, stage name Frankie Dee Kenya, was born on January 28, 1988. He is a Kenyan Dancehall and Reggae musician. He is a well renowned Artiste from the Coast Region of the Republic of Kenya. His popularity has extended Nationwide and Internationally doing well in countries such as Europe, The United States and United Kingdom
Career
His music career began when he ventured in the Pure Oxygen Jam Competition and won the Star Search challenge hosted by Sprite-Coca Cola Company at The Mombasa Polytechnic in Mombasa in 2004 He has worked on two Albums so far. His first album was "Sema" dubbed after his debut single Sema recorded at Big Sound Productions. This album included hit songs "Furahia" and "Holiday Party" featuring a well renowned Coastal based Superstar Ali B" which propelled him to fame in Kenya, East Africa and abroad.. Frankie Dee is one of the founders of DancehallMsa. DancehallMsa is a Reggea/Dancehall unit based in Mombasa and currently ruling airwaves in Kenya and has received massive recognition worldwide under the patronage of Selekta Vincent Kras famously known as the Promolord. In July 2015 he released the killer hit video "Buss a Whine" on the Bluemoon Riddim produced by Teknixx Dality of Capital O Music who is also a key member of DancehallMsa Team.Buss a whine rocked the airwaves and still is rocking. Lately in 2015 he released "Turn it up" followed by "Step up". These tracks are currently trending &receiving massive thumbs up worldwide by Dj's, fans & Dancehall legends such as Elephant Man. Frankie has earned himself the nickname \'The Dancehall Beast" due to his energetic performances pon the stage.
References
Facebook; Frankie Dee Kenya
Twitter; @frankiedeekenya
Instagram ; @frankie_ dee_ke
Email ; frankiedeekenya@gmail.com ...
Read More...
Welcome to Mkito.com's new look. Let us show you around...
This is a song. You can see the image, song name, artists and you can interact with it by previewing, downloading or sharing it with your friends.
To listen to a 30 second preview of any song, you can click the preview button under the name of the song.
If you want to go through all the artists we have here on Mkito, you can click here to browse through our artists lists.
To look through our music by genre, you can click here and select a genre of your choice.
To download a song,you can click on the download button of the song you like. You must be logged in to download a song.
If you have an account with Mkito, you can sign in by clicking this link, which will open a popup window.
To use your email address or phone number to log in, click this button.
Enter your details and click the button to log in.
Or create a new account here
If you don't have an account with Mkito, you can sign up by clicking this link, which will open a popup window.
To use your email address or phone number, click this button,which will take you to the registration form.
To register as an artist, click here.
Type the name of the song or artist you would like to find and submit
or login using your social media account