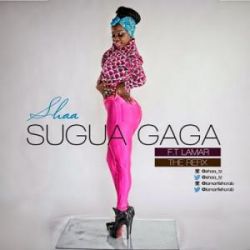 SHAA (real name Sarah Kaisi) is a talented Bongo Flava and Afro Pop artist in every sense of the word. This daring vibrant Diva was born and raised in Dar es Salaam, Tanzania and grew up in a musical family which includes a brother and sister who are also musicians themselves.In early 2004, under the group "WAKILISHA" of the East Africa Coca Cola Pop stars SHAA who was then known by her birth name Sarah made her debut into the Tanzania music scene. With their hit single "Hoi" SHAA and her fellow group members managed to win themselves a spot in the East Africa music industry. However, in 2005 SHAA left the group and went to USA to further her studies in another passion of hers which is Art. It was during her studying period abroad, under the management of WAKILISHA's previous manager, Daniel Kiondo of Kiondo Communications International , that SHAA started working on her solo career.
In October 2008 SHAA's solo career finally kicked off when she landed herself a major record deal with a prominent record label in Tanzania, MJ Records. Under MJ Records, SHAA has managed to record and release many hits such as ZAMU YANGU (meaning MY TURN), PAMBAZUKA, a track that also featured AY, SHOGA (meaning MY FRIEND), CRAZY and many many more.
With such hits under her belt SHAA earned her first Tanzania Music Awards Nominations for best R&B artist in 2008, Best Female Vocalist and Best Female Artist in 2010 and Best Female Performer in 2011. She also earned herself her very first MAMA(MTV Base) Awards Nomination in the Best New Act Category in 2009 and a Channel O Music Awards Nomination in the Best East African Act Category in 2010 and the Best Afro-Pop Act in 2011 where she went head to head with acts such as J-Martins and Mr.Flavour from Nigeria.
Although she didn't manage to grab any of the awards her hard work finally paid off in late 2011 when her then hit SHOGA won the Best Afro-Pop song in the MUSEKE Awards beating out some of Africa's best such as D'banj and 2Face Idibia. ...
Read More...
Albums
| Show all albums
Welcome to Mkito.com's new look. Let us show you around...
This is a song. You can see the image, song name, artists and you can interact with it by previewing, downloading or sharing it with your friends.
To listen to a 30 second preview of any song, you can click the preview button under the name of the song.
If you want to go through all the artists we have here on Mkito, you can click here to browse through our artists lists.
To look through our music by genre, you can click here and select a genre of your choice.
To download a song,you can click on the download button of the song you like. You must be logged in to download a song.
If you have an account with Mkito, you can sign in by clicking this link, which will open a popup window.
To use your email address or phone number to log in, click this button.
Enter your details and click the button to log in.
Or create a new account here
If you don't have an account with Mkito, you can sign up by clicking this link, which will open a popup window.
To use your email address or phone number, click this button,which will take you to the registration form.
To register as an artist, click here.
Type the name of the song or artist you would like to find and submit
or login using your social media account