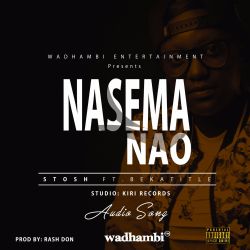 Felister Nyahucho (Stosh) was born Aug,13 in 1991 in Dodoma,Tanzania. She is a Tanzanian rapper (Female MC). She is considered as one of the best and talented lyricist in hiphop.

She is an Emcee, song writter, actress, narrator, mentor and Voiceover artist.She was raised in a street called Mlezi. Stosh engaged herself in rap music in 2004 where she was inspired from her brother "BUCHO" . Bucho sharpened her with different collections of good emcees localy and outside the country where she started to do remixes of famous rapers like kanye west,jay z,common and others .

They call her Stosh since she was a big fan of Scott stoarch ,she bealive he is a GOD of beats so she named herself stosh as a GOD of rap .In the age of 18 she tried to attend freestyle battles and cyphers in Arusha where she was taking her high school education. She joined Ardhi university for futher studies where she met B-BOY STERIO ,she got lessons from him as a protégé ,meeting him was a blessing ,Sterio helped her to meet famous people like Fid q,sheta,ben pol,Mujwahuki,Tamaduni Music and many others who surpoted her to live her dream.

In 2012 Stosh was featured in Mujwahuki mixtape (mujwahuki toleo la pili) also she released her debut song called "stosh noma" followed by collaborations from Rwanda after that she have been dropin a serries of hits like Supa Madini ft ManDVD, Punch za moto ft Ibrah, Queen wa Flow ft Kenny, Waonyeshe Waone ft Bucho & riziONE, MLETE ft Mr Blue and many more.

Stosh model herself around rhapsody and mcee lyte. Stosh is new force in hiphop and she is blazing the trail for new generaton of femcees in Tanzania.She s a femcee who present hiphop culture beyond the lines of gender improving that anything the boys can do she can do too ,and better. Her style is polished and distict and her wordplay and flow are unparalleled in both delivery. ...
Read More...
Welcome to Mkito.com's new look. Let us show you around...
This is a song. You can see the image, song name, artists and you can interact with it by previewing, downloading or sharing it with your friends.
To listen to a 30 second preview of any song, you can click the preview button under the name of the song.
If you want to go through all the artists we have here on Mkito, you can click here to browse through our artists lists.
To look through our music by genre, you can click here and select a genre of your choice.
To download a song,you can click on the download button of the song you like. You must be logged in to download a song.
If you have an account with Mkito, you can sign in by clicking this link, which will open a popup window.
To use your email address or phone number to log in, click this button.
Enter your details and click the button to log in.
Or create a new account here
If you don't have an account with Mkito, you can sign up by clicking this link, which will open a popup window.
To use your email address or phone number, click this button,which will take you to the registration form.
To register as an artist, click here.
Type the name of the song or artist you would like to find and submit
or login using your social media account