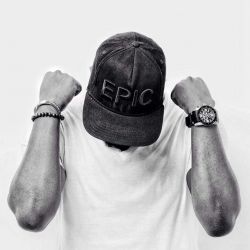 BIOGRAPHYWakazi started rapping at young age in Tanzania. In high school, he became popular with his performances during talent shows. He never took it seriously because of pressure from family to pursue other things. It was until he moved to Chicago in pursuit of the American Dream, where his love for Hip Hop was rejuvenated. In a short period, the self proclaimed, "Bilingual Beast" has gone from Freestyling, recording demos, to performing in festivals, opening up for big acts like Ice Prince and 2face Idibia, and finally becoming a seasoned performer. He has evolved from a young child in the streets of Dar es Salaam, to a lyrical giant who sees nothing else than Work Ethic and Dedication as being the keys to success. After years of commitment and dedication to his craft, Wakazi is poised to become Tanzania's leading Ambassador in Africa and in the Music WorldHis signature Blend of English and Swahili rhymes caused him to be dubbed the "Bilingual Beast", but his ability to tell a story and clever use of wordplay and metaphors, seem to be his real Strength. His ability to create context for the listeners is unparalleled, and he credits that to his personal life experiences as well as his imaginative part of the brain, which is sometimes more vivid than life itself.Wakazi believes he has something to prove to first Tanzania, and then the rest of Africa, that he deserves a spot among the Best. With the release of Three Mixtapes (MYU: The Trilogy) in the past year, "Abacus EP" and his debut Album "Kisimani LP" slated to drop soon, Wakazi has set the platform with which his dreams could be fulfilled. The sky is the limit for this TZee Emcee.Accomplishments• Performed alongside Davido, Chidinma, Tiwa Savage, Mario Winans, & Praiz in Lagos, Nigeria at the MTN Big Rave Show in February 2014.• The Only Tanzanian Artist to perform at the Industry Nite in Lagos Nigeria.• Performed with Temi Dollface in the Beat99FM Showcase at the Social Media Week Event in Lagos.• Released a highly anticipated EP titled ABACUS in January 2013.• Released his fourth Mixtape titled MYU: The Trinity in October 2013.• Winner of "Best Music Video of The Year" in the AFRO ENTERTAINMENT AWARDS in Chicago for Weekend Video w/ Reezon (Ghana) & Chibbz (Nigeria).• TOUCH was Number 9 on the Top 100 songs of 2013 by TIMES FM.• Nominated for "The Best Video of the Year" at the AFRO ENTERTAINMENT AWARDS in Chicago• Represented Tanzania as the 2013 Artist on the Big Brother Africa. Performed on The Chase Eviction show on July 7th and was watched by over 60 Million viewers.• Dropped 3 Mixtapes in the last 2 years, namely Mixtape Ya Ukweli, MYU2: The Return of The Bilingual Beast, MYU3: Welcome To Heartbreak.• Featured in the song "Weekend" alongside Reezon (Ghana) and Chibbz (Nigeria), a smash hit that is getting airplay across Africa.• Opened Up for the biggest African Acts like Iyanya, J Martins, 2face Idibia, Samklef, Jesse Jagz, Profesa Jay, Mercy Myra, Fuse ODG, Jose Chameleone, Lady Jaydee and Fid Q.• Performed with Ice Prince at the House of Blues during the "United Sounds of Africa" Tour in the United States.• Has been featured in various Tanzanian, Nigerian and Ghanaian Media outlets (Bongo5, TayoTV, GhanaMixtape, Naijamayor) as one of the "Best New Emcees" from Africa.• Wrote and performed in the song "Proud To Be" by AACUSA, a song that promotes African Pride and Unity among Diaspora Artists.• A Part of AACUSA (African Artist Coalition USA), a Diaspora group which features artists from Tanzania, Sierra Leone, Nigeria, Kenya, South Sudan, Zambia & Ghana.• Performed at the REPRESENT AFRICA showcase at the Shrine in Chicago.• Performed at the 2011 Afro Entertainment Awards held in Chicago• Performed at the 2011 Afro Caribbean Festival in Chicago.• Performed at the 2010 African World Festival in Detroit. ...
Read More...
Albums
| Show all albums
Welcome to Mkito.com's new look. Let us show you around...
This is a song. You can see the image, song name, artists and you can interact with it by previewing, downloading or sharing it with your friends.
To listen to a 30 second preview of any song, you can click the preview button under the name of the song.
If you want to go through all the artists we have here on Mkito, you can click here to browse through our artists lists.
To look through our music by genre, you can click here and select a genre of your choice.
To download a song,you can click on the download button of the song you like. You must be logged in to download a song.
If you have an account with Mkito, you can sign in by clicking this link, which will open a popup window.
To use your email address or phone number to log in, click this button.
Enter your details and click the button to log in.
Or create a new account here
If you don't have an account with Mkito, you can sign up by clicking this link, which will open a popup window.
To use your email address or phone number, click this button,which will take you to the registration form.
To register as an artist, click here.
Type the name of the song or artist you would like to find and submit
or login using your social media account