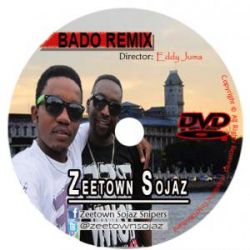 Zeetown sojaz ni kundi la muziki wa hiphop kutokea Zanzibar. Kundi hili lilianza harakati zake mwishoni mwa mwaka 2011 likiwa na member wa tatu (King Pozza, Kira Kirami na Chaby Six Mashine). Zeetown ilitokana na sisi wasanii wenyewe baada ya kila mmoja kuwa na ngoma kali hewani, kipindiicho King Pozza anasumbua na Dulla, Kira anasumbua na Omari na Chaby na ngoma inaitwa Mashine. Ikatokea siku tukakutana studio Jupitor kila mmoja akawa anahamu sana ya kumjua mwenzake kiundani tukapiga sana stori mpaka tukaona kwanini tusifanye kundi? Tukakubaliana na tukaanza kutafuta jina la kundi ndipo King Pozza alipotoa wazo tujiite Zetown Sojaz coz sisi kwa sasa ndio masojaz wa hip hop hapa Zenji. Jamaaa wakakubali tukaanza mchakato kwa kupiga ngoma ya kwanza tuliyomshirikisha Chiku kwa Lafamilia ilikuwa ngoma poa sana kwani one week ilikuwa hit hapa Zenji. Bad news ikaja mwanzoni mwa mwaka 2012 Chabi Six tulimuengua kundini kutokana na sababu za uvunjani wa sheria tulizo jiwekea awali wakati tunaanza harakati zetu but sio kwa bif ndio maana hadi leo ni mshikaji tu. Mwaka huohuo tukafanya remix ya ngoma tuliomshirikisha Chiku na ngoma ikapenya well. Baadaye tukatoa ngoma inaitwa Usiogope tulimshirikisha Dully Sykes. Baadaye tukafanya ngoma inaitwa Nakupa Kisogo tulimshirikisha Ben Pol. Mwaka 2012 June hadi 2013 March kundi lilisimama kidogo coz tulikuwa na mambo binafsi hasa King Pozza alikuwa anamalizia mwaka wake wa tatu chuo na Kira alikuwa anamishe flani binafsi. Mwaka 2013 May tulirudi studio na kurekodi ujio mpya ulioitwa Chinjachinja na ngoma ika chinja kweli. Mpaka now 2014 tumebaki wawili King Pozza na Kira Kirami tunaendeleza harakati. ...
Read More...
Songs
Albums
| Show all albums
Welcome to Mkito.com's new look. Let us show you around...
This is a song. You can see the image, song name, artists and you can interact with it by previewing, downloading or sharing it with your friends.
To listen to a 30 second preview of any song, you can click the preview button under the name of the song.
If you want to go through all the artists we have here on Mkito, you can click here to browse through our artists lists.
To look through our music by genre, you can click here and select a genre of your choice.
To download a song,you can click on the download button of the song you like. You must be logged in to download a song.
If you have an account with Mkito, you can sign in by clicking this link, which will open a popup window.
To use your email address or phone number to log in, click this button.
Enter your details and click the button to log in.
Or create a new account here
If you don't have an account with Mkito, you can sign up by clicking this link, which will open a popup window.
To use your email address or phone number, click this button,which will take you to the registration form.
To register as an artist, click here.
Type the name of the song or artist you would like to find and submit
or login using your social media account