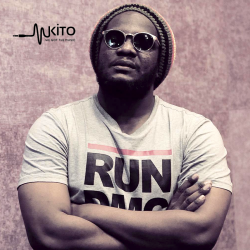 Farid Kubanda (amezaliwa tar. 13 Agosti 1982, katika hospitali ya Bugando iliyopo jijini Mwanza) ni msanii wa hip hop na bongo flava kutoka nchini Tanzania. Anafahamika zaidi kwa jina lake la kisanii kama Fid Q. Fid Q alianza shughuli za muziki mnamo miaka ya 1990. Fid Q alitoa kibao chake cha kwanza mwaka 2000 kiitwacho 'Huyu na Yule' ambacho hicho aliimba na msanii Mr Paul. Kibao hiki kilimpa heshima kubwa, kibao hicho kilirekodiwa katika studio za MJ records chini ya usimamizi wake Master Jay mwenyewe.Kibao chake cha pili kutoka kiliitwa 'Binti Malkia' ambacho alimshirikisha Noorelly. Ilivyofika mnamo mwaka wa 2004 Fid Q alivunja ukimya wake kwa kibao chake mahili kilichokwenda kwa jina la "Fid Q.com", na kibao hicho alikifanya katika studi ya Baucha Records baada ya kuhama kwa MJ.Kibao hicho kiliirudisha ile hiphop ya Tanzania katika ramani yake halisi na inasemekana hivyo kwasababu kipindi hicho ni kile ambacho wasaanii wengi wa muziki wa kufokafoka walikuwa wamejiingiza katika masuala ya uimbaji kwasababu kulikuwa na uvumi wa kwamba hip hop haikubaliki kwa watu wa Tanzania.Ilipofika mwezi wa Januri ya 26 katika mwaka wa 2008, Fid Q alipakua kibao kiitwacho "Ni Hayo Tu" alichomshirikisha Prof. J na Langa. Kibao hicho kilibahatika kujinyakulia Tuzo ya Kili kikiwa kama kibao bora cha muziki wa hip hop kwa mwaka wa 2007-2008.Fid Q ana albamu mbili kwenye soko la muziki. Albamu ya kwanza inaitwa inayoitwa "Vina Mwanzo Kati na Mwisho". Mwishoni mwa mwaka 2009 alitoa albamu ya pili "PROPAGANDA", ambayo imepokelewa vizuri sana Tanzania na nchi nyingine za Afrika Mashariki. Mashabiki wa Hip Hop wanaichukulia PROPAGANDA kama ni albamu bora kabisa, yaani 'classic'. Hivi karibuni anategemea kutoa albamu yake ya tatu itakayokwenda kwa jina la "KitaaOLOJIA". ...
Read More...
Albums
| Show all albums
Welcome to Mkito.com's new look. Let us show you around...
This is a song. You can see the image, song name, artists and you can interact with it by previewing, downloading or sharing it with your friends.
To listen to a 30 second preview of any song, you can click the preview button under the name of the song.
If you want to go through all the artists we have here on Mkito, you can click here to browse through our artists lists.
To look through our music by genre, you can click here and select a genre of your choice.
To download a song,you can click on the download button of the song you like. You must be logged in to download a song.
If you have an account with Mkito, you can sign in by clicking this link, which will open a popup window.
To use your email address or phone number to log in, click this button.
Enter your details and click the button to log in.
Or create a new account here
If you don't have an account with Mkito, you can sign up by clicking this link, which will open a popup window.
To use your email address or phone number, click this button,which will take you to the registration form.
To register as an artist, click here.
Type the name of the song or artist you would like to find and submit
or login using your social media account