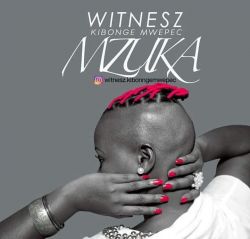 Witness Mwaijaga Stage aka Witnesz Kibonge Mwepec is one of Tanzania COCACOLA POP STAR winner 2004. Went to South Africa as winner of coca cola pop star competition out of 2500 contestants and happen to be in a formed winners group called Wakilisha (Represent) which had three winners Sarah,Langa and Witnesz PERFOMANCES IN SOUTHAFRICA @the dinner party in the club house @club berogue At the TSV Filming school. @ BigBrother africa 2008/on chanel o music video awards. @the Norwegean ambassadors residence for the prime minister of Norway H.E jens stoltenberg @Annual concert-on women care project in Oslo,Norway 2006 /19 Concert for an album launch Khaya khaya which is under Nedland kultur 2009 and sold in Norway under distribution company MTG hard copies sold out in a short period of time. Witnesz was born on 15th November, in the financial city of Tanzania, Dar es Salaam. In her early life she was raised by her Canadian step father Stanley Meldrum who gave her a life inspiring foundation of "you can be anything as long as you put your mind, energy and soul to it'. Witnesz is the most distinctive personality in rap and possessor of it\'s most recognizable delivery, a halting, Busta Rhymes-inspired style with incredible complexity, ingenuity, and humour. Witnesz, has proved to be East Africa's most outstanding hip hop female Icon, and she doesn't need to be told that she was born to win because she knows that winning is part of her birth rights. Her musical path started 1997 as a researcher on Hip hop influence in the slams and ghettos of kinondoni Dar es Salaam. That's when she realized that there were no female mc's and got her gear on joined the male dominated game of hip hop. At a time, she added a whole flavor to the industry in terms of performing. She was characterized as the back stage laid back person but a real loose wild bull on stage when performing and that's why A lot of people thought she was under drug influence but later they discovered that she naturally has energetic life on the MIC and on stage than any other place and that's where the early name of BAD GEAR was born. That's why, in the rap verses of ZERO she clearly states that, AM STILL WITNESSING THE BAD GEAR OF HIP HOP... which explains her name transitions from Bad Gear to just Witnesz. BEING THE ONE AND ONLY EYE OF HIP HOP Through the years, she has won different awards and competitions including the Coca cola pop-star in 2004 and became a member of the Tanzania\'s pop star's group called WAKILISHA ( meaning representing\') The group broke up after eight months due to mismanagement funds among other things. IN 2005 she collaborated with ZAP MAMA and recorded a song titled FOR THE BLUES. The song condemned female circumcision. the song got international recognition and CARE INTERNATIONAL in collaboration with CARE NORGER invited Witnesz to perform in Oslo Norway as a Tanzania representative on the same stage with Mari Boine and Angelie Kidjo. After that performance, she turned heads and later got to record an album with Norway\'s Best Hip hop group and the grammy award winners 2006 DARK-SIDE OF THE FORCE. The inspiration of the hit single ZERO came up as people in Tanzania were using Witnesz as a land mark for female hip hop music in East and Central Africa and That's why she clearly states that in the chorus when she says (Witnesz) Wanaotaka shindana Nami sema (ya all who want to compete with me just say it ) Watapata zero (You will get nothing but zero) (Fid Q; Tena Na tena,Tena Na tena (again and again) AWARDS & NOMINATIONS Channel O music video Awards 2008-Nominated in 3 categories of a song Zero Best Duo/Group Best Hip hop Video Best African East-Went home with Trophy of best African east award. Nominee on World Hip hop Awards in Nigeria 2009 As best music of the world – nominated song Zero Tanzania music Awards-2009 As best Rapper – Zero Being collaborated in an Album compilation based in Norway with different varieties of artist from Africa Titled Imagine Africa - 2 songs were chosen one from a Norwegian project Album khaya khaya under Nedland kultur song called umwe and Attention Please from an African project 2009. WITNESz performed and gave a speech at the UNDP 2010 elections support project launch as youth and women representative, Icon and role model on 15th june 2009 at Apeadu conference room Dar es salaam, Tanzania. Apart from having her dream of doing collaboration with Buster Rhymes, she finally got to meet him, had a conversion and got her Bible signed by the role model of her lifetime, her inspiration, her way to success. For her finally a dream came true. A representative on an American embassy Project IVLP international visitors Leadership programme 2012 called hip hop and civic engagement to visit ,learn in depth about hip hop culture and civic engagement for three weeks in the united states of america, the hip hop programme was held in more than five states, Washington Dc, New orleans,Los Angeles Califonia, New york,Detroit michigan etc,learned from the best hip hop headz in histry for more info visit witnesztz.blogspot.com TRADITIIONAL MUSIC Established Mshumaa gizani Traditional music group band focuses on Live hip hop, acrobatics, playing with fire Traditional dances By using traditional instruments and also as traditional music dancer. Khaya Khaya album.;Live tradittional instrumented music, African Traditional Hip hop. Contemporary fusion; African, Coastal sounds of Taarab Lyrics; Swahili, French, Norwegian, Kimatengo and English Featured artists; Dark Side of the Force (DSF) Anania Bob Rudala CBH. Executive Producer ; SigBjorn Ned land Career dream; Song collaboration with Busta Rhymes Other experience and talents Dancer/ TV and Radio presenter ,TV and radio shows producer,Actress,Chancellor HIV /Aids Life skills Life styles,Motivational speeker. BOOKING contact email; witnesztz@gmail.com follow me on instagram @witnesz_kibongemwepec ...
Read More...
Albums
| Show all albums
Welcome to Mkito.com's new look. Let us show you around...
This is a song. You can see the image, song name, artists and you can interact with it by previewing, downloading or sharing it with your friends.
To listen to a 30 second preview of any song, you can click the preview button under the name of the song.
If you want to go through all the artists we have here on Mkito, you can click here to browse through our artists lists.
To look through our music by genre, you can click here and select a genre of your choice.
To download a song,you can click on the download button of the song you like. You must be logged in to download a song.
If you have an account with Mkito, you can sign in by clicking this link, which will open a popup window.
To use your email address or phone number to log in, click this button.
Enter your details and click the button to log in.
Or create a new account here
If you don't have an account with Mkito, you can sign up by clicking this link, which will open a popup window.
To use your email address or phone number, click this button,which will take you to the registration form.
To register as an artist, click here.
Type the name of the song or artist you would like to find and submit
or login using your social media account