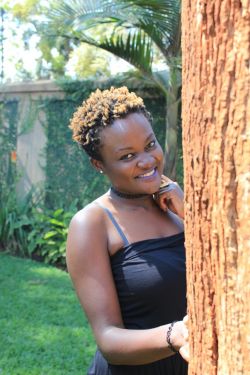 Cathy Matete is a Kenyan Singer and Songwriter who is out to tell the African story through her music that is influenced largely by Lovers Rock and Roots Rock Reggae fused with Afro-Soul and elements of African Languages.Cathy is a passionate, soulful perfomer who takes her listeners on a journey through a musical world where freedom and joy balance sorrow and injustice. The development of her unique style is the result of a lifetime of musical influence. Her larger than life stage persona and powerful but heavenly voice have seen her grace numerous stages including the Jamhuri Reggae Festival, Utam Festival and The Go down Gig. She has also shared the stage with International and award-winning acts such as, Queen Ifrica, Capleton, Christafari, Wyre, and Tunedem Band.Her debut single by ZJ Heno, off the Passionate Riddim "All for you" released in 2013 got very good feedback and has seen her record her second single, "Take my Hand" whose audio was produced by ZJ Heno and Shamir for Empire Sounds, featuring some of the best vocalists in Kenya. The song has been on heavy rotation on most Kenyan Radio Stations and Reggae Shows in Jamaica.Cathy, who's music cuts across the clutter, has also been featured in #Kaziyashamir's latest project called the Love Pulse Riddim which has received some good airplay on different local Radio stations with the riddim tour still in place. Her single dubbed Eternity is a song that appreciates love and talks about longing to be with the one you love till forever(eternity). Something that is worth looking forward to when pursuing affection for someone else, keeping in mind this is the greatest thing anyone can experience in life. It is her spin on love, and heartbreak, and love again. Currently working on the launch of her career with an EP which will sample different sounds from our rich heritage, the world should brace themselves for what the future holds. Her fun, but purposeful approach to music along with her unique soulful, yet high energy style of delivering it, is something that is slowly finding it's place in the Kenya's market and beyond. ...
Read More...
Welcome to Mkito.com's new look. Let us show you around...
This is a song. You can see the image, song name, artists and you can interact with it by previewing, downloading or sharing it with your friends.
To listen to a 30 second preview of any song, you can click the preview button under the name of the song.
If you want to go through all the artists we have here on Mkito, you can click here to browse through our artists lists.
To look through our music by genre, you can click here and select a genre of your choice.
To download a song,you can click on the download button of the song you like. You must be logged in to download a song.
If you have an account with Mkito, you can sign in by clicking this link, which will open a popup window.
To use your email address or phone number to log in, click this button.
Enter your details and click the button to log in.
Or create a new account here
If you don't have an account with Mkito, you can sign up by clicking this link, which will open a popup window.
To use your email address or phone number, click this button,which will take you to the registration form.
To register as an artist, click here.
Type the name of the song or artist you would like to find and submit
or login using your social media account