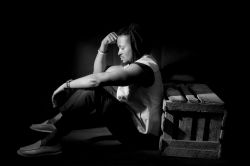 Full name; Robert Eddy Sheggy Stage name; Ochu shegyy Birthday ; 28th june Occupation; artist Robert eddy sheggy highly known as Ochu sheggy, Raised as the only son by a single mother the late Naomi john before he became an orphan in 2006. Started his his music career as a church lead singer since he was 10 years old until he turned 14 then he discovered rap music but his rap career didn't last long after been given an advice by a choir instructor that "if by chance he wants to do music of the world he has to stick to singing cause he has an incredible gifted voice ". All of this happened after being caught rapping in a church facility using the church choir instruments in the reharsle room, he started rapping with writing then afteran intructors advice,the transition was hard enough to make any one quit but, R,kelly's songs kept him going as his inspirational role model and as he grew deeper in music Tracy chapman became the chosen one. Ochu sheggy started his music career in 2007, After his mum passed away taking music as the only savior and the only thing he has that he can survive on with in this world, though his talent has been discovered in Tanga city the coastal area of Tanzania known as the region of romance or the Ireland of love but his musical activities based in dar-es –salaam, where ochu sheggy started his reacording career in the early 2007. Via experience Ochu sheggy says; Getting a studio setion it doesn't necessarily mean that you have done it your there or you have made it or your on top of the game because Ochu sheggy himself Recorded an album which it was never released, launched or talked about even a single song from it but,a year after he released his first brand new single named Tie my shoe after moving to another record deal Tie my shoe did well in different radio stations but the audio lucked a video because the industries demand by that time was an audio with a video. So it was decided that the second song named think about it starts with a music video unfortunately , even this never got a chance to be a completed version because it was deleted by the editor with reasons unknown till today. He had to Quit doing music after all of this heat being so not tolerable ,but a year after he met again his music career and was automaticly driven back after attending a studio settion for his close friend H,Baba and that's when he started again or picked up what he left behind,simply because his vains runs a blood line of musical codes a legacy of inheritance which has been given by his late father Eddy Sheggy passed away in the early 2000 did wonders in the entertainment industry with due respect to some bands he played in , Super rainbow/Bima/Bantu group/vijana jazz etc, without forgetting the ones he played in the neighboring country Nairobi Kenya, Ishe Ishe and many more. Check out his music videos on Ochu sheggy@yotube.com Facebook account ochu eddy sheggy Appart from music ochu sheggy is an illustrator did almost 20 books but the finalized and published are 4 books named 1. THE HAPPIEST DAY FOR SIMEON AND NSULA 2. MILIMA YA ULUGURU 3. SUNGURA NA MAPAPAI 4. WAKO WAPI also he is a guitarist, actor, entrepreneur in the wellness industry , also was in a band called The Passion which was based in Bagamoyo as a lead vocalist in a band of eleven head count. Contact; osheggy@gmail.com Spoken Languages English and swahili FAVORITE QUOTES God\'s Time is Always The best..... ...
Read More...
Albums
| Show all albums
Welcome to Mkito.com's new look. Let us show you around...
This is a song. You can see the image, song name, artists and you can interact with it by previewing, downloading or sharing it with your friends.
To listen to a 30 second preview of any song, you can click the preview button under the name of the song.
If you want to go through all the artists we have here on Mkito, you can click here to browse through our artists lists.
To look through our music by genre, you can click here and select a genre of your choice.
To download a song,you can click on the download button of the song you like. You must be logged in to download a song.
If you have an account with Mkito, you can sign in by clicking this link, which will open a popup window.
To use your email address or phone number to log in, click this button.
Enter your details and click the button to log in.
Or create a new account here
If you don't have an account with Mkito, you can sign up by clicking this link, which will open a popup window.
To use your email address or phone number, click this button,which will take you to the registration form.
To register as an artist, click here.
Type the name of the song or artist you would like to find and submit
or login using your social media account