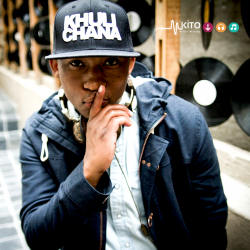 Khulane Morule, better known by his stage name Khuli Chana is a South African Motswako rapper. Morule was born in the Mmabatho, North West Province and started rapping at a young age, bringing a different flavour and sound, not only to this genre of music but also to the Hip-Hop scene. 2016 has proven that Khuli Chana is running in his own lane in the music industry having released 3 game changing projects this year ahead of the release of his highly anticipated EP, One Source that will be released on Friday 4 November 2016 and the full album which is set for release in February 2017.The first highlight of 2016 had to be when Khuli partnered yet again with ABSOLUT Vodka by celebrating African creativity with the launch of the exclusive screen-printed Khuli Chana Signature Edition Bottle to the South African market.The launch of the Khuli Chana Signature Edition marked the start of the brand's One Source Campaign and saw Khuli literally set Africa on fire when he released the music video for One Source, the new track that premiered at the MTV Africa Music Award (MAMA) Nominee Announcement.However, one of Khuli's biggest career highlights will be when SABC1 viewers will get to see an exclusive viewing of the film, Khuli Chana: Picking up the Pieces, scheduled to broadcast in a two-part series on Sunday 6 and 13 November 2016, at 21h00. Produced by Khuli Chana's life partner, Asanda Maku, and distributed by Seed Entertainment, Khuli Chana: Picking up the Pieces will see Khuli Chana speak candidly, for the first time in more than two years, about the unfortunate shooting incident and how it impacted his life forever."2016 has been a great year. It's like a rebirth, repositioning and reinvention. I haven't released an album in the last three years. The past three years there have been a lot of drama with the cops and law. There have also been a lot of fear and mental blocks, having to pick myself up but I had a lot of support, I wasn't down and out. But I had stuff to deal with." ...
Read More...
Albums
| Show all albums
Welcome to Mkito.com's new look. Let us show you around...
This is a song. You can see the image, song name, artists and you can interact with it by previewing, downloading or sharing it with your friends.
To listen to a 30 second preview of any song, you can click the preview button under the name of the song.
If you want to go through all the artists we have here on Mkito, you can click here to browse through our artists lists.
To look through our music by genre, you can click here and select a genre of your choice.
To download a song,you can click on the download button of the song you like. You must be logged in to download a song.
If you have an account with Mkito, you can sign in by clicking this link, which will open a popup window.
To use your email address or phone number to log in, click this button.
Enter your details and click the button to log in.
Or create a new account here
If you don't have an account with Mkito, you can sign up by clicking this link, which will open a popup window.
To use your email address or phone number, click this button,which will take you to the registration form.
To register as an artist, click here.
Type the name of the song or artist you would like to find and submit
or login using your social media account