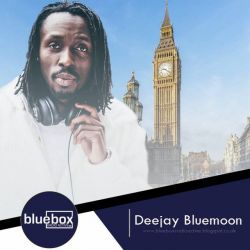 Born in Nairobi, Kenya, Deejay bluemoon gained his early experience from the age of 10yrs performing at the school clubs which he was an active participant, joining the Music, Drama and Debate clubs. At the age of 15, he moved to another town (Nakuru)In the Rift Valley to join high school. His love for the art did not change for even in high school he joined the same titled clubs.Bluemoon' s love for entertainment did not go unnoticed for he worn several awards on school competitions and was even crowned the schools entertainment captain a responsibility he took to make sure all the students got entertainment in the weekends in terms of music and movies.At the age of 16 Bluemoon got his first huge break when he was selected to a rap battle in a national TV program (Baseline, KTN) which was hosted by Esther Bondo where yet again he emerged victor with the most votes. It was from this point that he decided to take his art serious and work to perfect it.In 2005 Bluemoon moved to Kampala, Uganda for his A level education still involving himself in entertainment activities as he tried to find his way in the industry.In 2009 he met Dj Tembo and DJ Darddy who introduced him to the dj world, lifestyle , party scenes and just like that fell in love with it. He started researching on being a dj, how to use the equipment as he got tips from dj friends.He did a couple of shows alongside dj Darddy in Kampala locking heads with , Ras Clans' Ras Brown, Dj Mark, Crim, and many more and in 2014 he decided to make it official by joining a dj school in Kenya (Music Technology Academy (MTA) under Homeboyz Entertainment)Later in 2014, Deejay Bluemoon moved to London, United kingdom where he founded the Bluebox Music Group producing music, marketing and promoting old and upcoming through various avenues including a radio station of which he founded in 2016 (Bluebox Radio Active)Currently working with Iadan, Spang to di g, Fancy Lady, Ameytuz jir, and Shav A, Music group is yet to officially sign artists.Read More:http://deejaybluemoon.blogspot.co.uk/p/portfolio.html ...
Read More...
Songs
Albums
| Show all albums
Welcome to Mkito.com's new look. Let us show you around...
This is a song. You can see the image, song name, artists and you can interact with it by previewing, downloading or sharing it with your friends.
To listen to a 30 second preview of any song, you can click the preview button under the name of the song.
If you want to go through all the artists we have here on Mkito, you can click here to browse through our artists lists.
To look through our music by genre, you can click here and select a genre of your choice.
To download a song,you can click on the download button of the song you like. You must be logged in to download a song.
If you have an account with Mkito, you can sign in by clicking this link, which will open a popup window.
To use your email address or phone number to log in, click this button.
Enter your details and click the button to log in.
Or create a new account here
If you don't have an account with Mkito, you can sign up by clicking this link, which will open a popup window.
To use your email address or phone number, click this button,which will take you to the registration form.
To register as an artist, click here.
Type the name of the song or artist you would like to find and submit
or login using your social media account