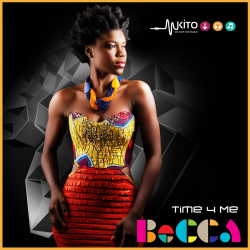 Born Rebecca Acheampong, Becca is a singer, actress and a student. Born August 15th, 1984, in Kumasi the Ashanti region, West Africa Ghana as the first girl and fifth born of nine children from a religious Christian family. No mere child prodigy at a very young age Becca show cased her talent as a singer by participating in School Talent shows as well as church activities and always came up with one of the top most prizes at all times. Becca now a fully grown proud African woman who is reading a degree course in project management at GIMPA also studied in some of Ghana's prestigious schools such as Morning Star and Wesley Girls high school and continued further education in London's Croydon College where her like for children and their well being motivated her to come out as fully qualified Childcare and education worker. After several years abroad She returned back to native home Ghana where her undisputed talent was discovered by a trailblazing record label E K B records who signed her on and proceeded to work. Her first single "you lied to me" was released in August 2007 and was followed by the release of her debut album "Sugar" which was lunched on the 13th of November the same year. Her music videos are aired all over the world and are also enjoying great reviews on you tube. Her album sugar feathered may of Africans renowned musician and was graced by South African legend jazz musician Hugh Masakela who collaborated with her on the song "I love you" which is enjoying massive air play in south Africa. Her style of music and dressing is influenced by her surrounding and up bringing as an African. Becca may be a good singer but it doesn't end there she also plays the guitar and is a talented actress. She's currently working on a multimillion dollar movie with some of African and Europe's best film makers in the true life story of Barcelona Fc striker Samuel Eto'o. Becca is also currently Africa's highest paid female actress in Africa. So soon in her carrier Becca has set up a charity that so far gives over one thousand children free health care in Ghana. She is a multiple Ghana music awards winner, A Kora award winner for the most promising African act 2010 amongst others. ...
Read More...
Welcome to Mkito.com's new look. Let us show you around...
This is a song. You can see the image, song name, artists and you can interact with it by previewing, downloading or sharing it with your friends.
To listen to a 30 second preview of any song, you can click the preview button under the name of the song.
If you want to go through all the artists we have here on Mkito, you can click here to browse through our artists lists.
To look through our music by genre, you can click here and select a genre of your choice.
To download a song,you can click on the download button of the song you like. You must be logged in to download a song.
If you have an account with Mkito, you can sign in by clicking this link, which will open a popup window.
To use your email address or phone number to log in, click this button.
Enter your details and click the button to log in.
Or create a new account here
If you don't have an account with Mkito, you can sign up by clicking this link, which will open a popup window.
To use your email address or phone number, click this button,which will take you to the registration form.
To register as an artist, click here.
Type the name of the song or artist you would like to find and submit
or login using your social media account