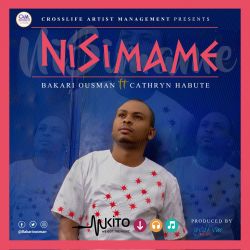 Bakari Ousman is an inspired, dedicated Christian minister whose life's journey has seen him endure difficult consequences as a result of the choice he made; the choice to follow Christ. In the face of such adversity, he stood up for who He has believed in. Disowned by his family for his faith in Christ, Ousman found himself homeless and with no means to fend for himself since he was under age. He managed to complete high school amid a lot of financial struggle.His real experience and the extent of his adversity can only be felt in the intricate details of his life story, which have sunk him to incredible depths and brought him to his wits end more times than he can count . His victory over these intense difficulties, he solely attributes to a growing relationship with the Lord and an ever increasing knowledge in God's purpose for his life.Bakari, having lived through daunting and seemingly hopeless challenges, understands now that no experience is wasted on God's watch. Having lived through situations that so many young people find themselves in today has given him a passion to reach out to the young people through sharing his experience in the hope that they can learn how to depend on God for purpose like he did.He is the founder of Crosslife Movement which is a Christian based movement whose mission is to reach out to young people with the unadulterated gospel of Christ and the word of God. The movement consists of a diverse group of young people who by the help of God have overcome daunting life challenges and have gone on to become significant members of society. They share their experiences with young people, especially in high schools, with the intention of positively impacting these young lives with their testimonies, sharing the love of Christ, drawing the young generation back to God and basically helping raise all round individuals. ...
Read More...
Songs
Welcome to Mkito.com's new look. Let us show you around...
This is a song. You can see the image, song name, artists and you can interact with it by previewing, downloading or sharing it with your friends.
To listen to a 30 second preview of any song, you can click the preview button under the name of the song.
If you want to go through all the artists we have here on Mkito, you can click here to browse through our artists lists.
To look through our music by genre, you can click here and select a genre of your choice.
To download a song,you can click on the download button of the song you like. You must be logged in to download a song.
If you have an account with Mkito, you can sign in by clicking this link, which will open a popup window.
To use your email address or phone number to log in, click this button.
Enter your details and click the button to log in.
Or create a new account here
If you don't have an account with Mkito, you can sign up by clicking this link, which will open a popup window.
To use your email address or phone number, click this button,which will take you to the registration form.
To register as an artist, click here.
Type the name of the song or artist you would like to find and submit
or login using your social media account