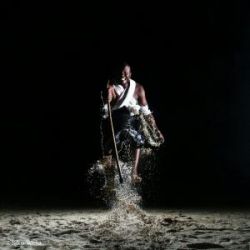 before coming of white man to colonise we African were spiritul and also before the coming of arabs to trade we African were religious Ngai Mumbi (God the creator) na Mwatuangi (God the finger-divider). He is perceived as the omnipotent creator of life on earth and as a merciful, if distant, entity. The traditional Akamba perceive the spirits of their departed ones, the Aimu or Maimu, as the intercessors between themselves and Ngai Mulungu. They are remembered in family rituals and offerings / libations at individual altars. God does to them only what is good, so they have no reason to complain. He protects people, and is known as both \'the God of comfort\' and \'the Rain Giver\' (rain is sometimes called the \'saliva of God\', and for this reason to spit on something (such as a child) is a symbol of great blessing).consider the heavens and the earth to be the Father\'s \'equal-sized bowls\': they are his property both by creation and rights of ownership; and they contain his belongings, including livestock, which he lowered from the sky and gave (perhaps to us...Kamba make sacrifices on great occasions, such as at the rites of passage, planting time, before crops ripen, at the harvest of the first fruits, at the ceremony of purifying a village after an epidemic, and most of all when the rains fail or delay. They use oxen, sheep or goats of one colour, and in the case of severe drought they formerly sacrificed a child which they buried alive in a shrine. ...
Read More...
Songs
Welcome to Mkito.com's new look. Let us show you around...
This is a song. You can see the image, song name, artists and you can interact with it by previewing, downloading or sharing it with your friends.
To listen to a 30 second preview of any song, you can click the preview button under the name of the song.
If you want to go through all the artists we have here on Mkito, you can click here to browse through our artists lists.
To look through our music by genre, you can click here and select a genre of your choice.
To download a song,you can click on the download button of the song you like. You must be logged in to download a song.
If you have an account with Mkito, you can sign in by clicking this link, which will open a popup window.
To use your email address or phone number to log in, click this button.
Enter your details and click the button to log in.
Or create a new account here
If you don't have an account with Mkito, you can sign up by clicking this link, which will open a popup window.
To use your email address or phone number, click this button,which will take you to the registration form.
To register as an artist, click here.
Type the name of the song or artist you would like to find and submit
or login using your social media account