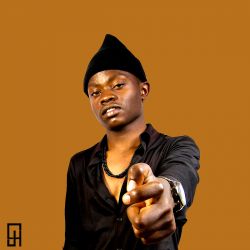 Born Hans Agona Okachi On October, 10 1996. He Is Popularly Known By His Stage Moniker ''Ly'Hans Hannee''. The Nairobi Based Rapper Hails From Kitale, Trans-Nzoia County. He Started Rapping And Freestyling In 2005. This Was As A Result Of Influence From His Eldest Brother And Propelled By His Love In Poetry. He Also Got Influences From Birdman, Tupac, Hurricane Chris, 50 Cent & Curren$Y. Locally He Was Influenced By CMB Prezzo, Abbas Kubaff, K-Rupt, E-Sir & Wenyeji. He Was Performing In Primary School(Kitale School) Under The Duo ''Holy Boyz'' Together With His Fellow Classmate Rapper Anthony Upto 2010 When They Graduated From & Joined Different High Schools. Greatly Influenced By Hip-Hop Movement Quartet Tymelessmusik From WV, USA. He Decided To Venture Into Music As A Career & Be A Proffessional Rapper. He Then Started Recording His Music At The Age Of 14 Years Adopting The Stage Name ''Ly'Hans'': Which Is Short Form Of ''Lyricist/Lyk Hans''. In High School He Formed A Rap Group Named ''YBMM Supremacy'' (Young Brothers Making Musik) Which Consisted Of His High School Pals Who Were Rappers. The Group Did Not Last For So Long. Hannee Has Three Mixtapes Under His Pseudonym. In 2013, The Rapper Self-Released His First Five-Track Mixtape & EP Entitled ''Undaground Echoes'', Which He Gave Out For Free To Identify With His Fans. On 23rd November, 2014 He Then Self-Released His Second Nine-Track Mixtape Entitled ''Blessed Curse'': Which Sold Some Good Number Of Copies, Making Him Popular Within His Hometown Region. On May 10th 2016, He Again Self-Released His Third Ten-Track Mixtape Entitled T.H.U.G (True Hero Unda God). The Mixtape Was Successfully Shipped Creating A Buzz. He Is Currently Working On His Debut Album.According To Ly'Hans His Music Is Influenced By Life Experiences, Religion & Trends In The Modern Society. He Uses Sheng' Slang, English & Swahili To Deliver His Rhymes; Among Use Of Word Play, Metaphors, Humour, Puns & Punchlines As His Personality On His Records. He Proudly Reps His Hometown Kitale & Brands Himself As The ''KitaLegend''. ...
Read More...
Albums
| Show all albums
Welcome to Mkito.com's new look. Let us show you around...
This is a song. You can see the image, song name, artists and you can interact with it by previewing, downloading or sharing it with your friends.
To listen to a 30 second preview of any song, you can click the preview button under the name of the song.
If you want to go through all the artists we have here on Mkito, you can click here to browse through our artists lists.
To look through our music by genre, you can click here and select a genre of your choice.
To download a song,you can click on the download button of the song you like. You must be logged in to download a song.
If you have an account with Mkito, you can sign in by clicking this link, which will open a popup window.
To use your email address or phone number to log in, click this button.
Enter your details and click the button to log in.
Or create a new account here
If you don't have an account with Mkito, you can sign up by clicking this link, which will open a popup window.
To use your email address or phone number, click this button,which will take you to the registration form.
To register as an artist, click here.
Type the name of the song or artist you would like to find and submit
or login using your social media account