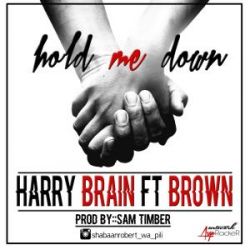 kutana na HarryBrain,msanii wa muziki wa kizazi kipya kupitia mahadhi ya HipHop na Rap ambaye tangu enzi za utoto wake ndoto yake ilikuwa ni moja tu nayo si nyengine bali ni kuja kuwa msanii bora katika tasnia hiyo Africa mashariki,Africa kwa ujumla na hata nje ya mipaka hiyo. HarryBrain ambaye jina lake halisi ni Harryson Hosseana,alizaliwa tarehe 20 February 1991 na alianza kupata hisia za kuupenda muziki kwanzia miaka ya 97 akivutiwa zaidi na nyimbo za marehemu Tupac,Notorious B.I.G,Big Daddy Kane,Bob Marley na hata Michael Jackson.Baada ya kukua kwa muziki wa kizazi kipya Tanzania,HarryBrain alivutiwa zaidi na sanaa ya Proffesor Jay,Albert Mangwair,Langa,Afande Sele,Squeezer na FidQ hivyo kumpelekea kutamani kufanya sanaa yake kwa kufwata nyayo zao na hilo ndilo lililomsukuma kushiriki kwenye mashindano na maonyesho mbalimbali ya vipaji shuleni na hata mtaani kwao. Jina HarryBrain lilipatikana baada ya watu kuanza kuridhika na uwezo wa kijana huyo kwenye kutunga na kughani tungo kwa kutumia akili kubwa sana hivyo akafupisha jina lake Harryson kuwa "Harry" na kisha kuliunganisha na neno "Brain" linalomaanisha akili hivyo kuwa HarryBrain,kijana ambaye mwaka 2012 alikutana na producer Samtimber wa Fnock Studios jijini Arusha aliyekubali uwezo wake na kuamua kufanya nae kazi ya kwanza iliyoenda kwa jina "Nipe More" yenye mahadhi ya Hiphop ambayo haikufanya vizuri sana kwenye media lakini ilipokewa na mashabiki vizuri hivyo kupelekea wawili hao kuamua kufanya kazi pamoja na hivi sasa HarryBrain ama unaweza kumuita "Brain" anafanyia kazi mixtape yake ya kwanza itakayokwenda kwa jina la "Agano Jipya the mixtape" na tayari nyimbo kama "Balaa" ambayo ipo ndani ya kanda mseto(mixtape) imeshaachiwa hewani ikifanya vizuri kwenye mawimbi mbalimbali ya media hapa Tanzania. ...
Read More...
Albums
| Show all albums
Welcome to Mkito.com's new look. Let us show you around...
This is a song. You can see the image, song name, artists and you can interact with it by previewing, downloading or sharing it with your friends.
To listen to a 30 second preview of any song, you can click the preview button under the name of the song.
If you want to go through all the artists we have here on Mkito, you can click here to browse through our artists lists.
To look through our music by genre, you can click here and select a genre of your choice.
To download a song,you can click on the download button of the song you like. You must be logged in to download a song.
If you have an account with Mkito, you can sign in by clicking this link, which will open a popup window.
To use your email address or phone number to log in, click this button.
Enter your details and click the button to log in.
Or create a new account here
If you don't have an account with Mkito, you can sign up by clicking this link, which will open a popup window.
To use your email address or phone number, click this button,which will take you to the registration form.
To register as an artist, click here.
Type the name of the song or artist you would like to find and submit
or login using your social media account