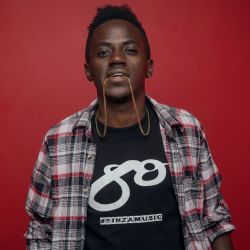 Brian Lorenzo ambaye pia anajulikana kama \'Uwezo\' ni msanii wa kitanzania mwenye mapenzi ya muziki tangu utotoni.Kutokana na kupenda muziki sana,ilikuwa rahisi kwake kujihusisha na aina ya muziki wa kuimba(Rnb) pamoja na muziki wa ku rap(Hip Hop).Kuendelea kukuwa kwa kipaji kimuziki na maendeleo ya wasanii wa kubwa,ilitoa mwanya na kupelekea kufanya muziki wa kiwango cha juu na kuwa wa kibiashara.Amekuwa msanii mwenye jihudi ya kukiendeleza kipaji chake na kipaji kimendelea kukuwa na kumfanya msanii aliye bora kwa sasa.Mbali ya kuimbaa na ku rap pia nimtunzi na muandaaji wa muziki.kutokana na juhuudi kubwa na mapenzi aliyo nayo katika muziki,wasaanii wa kubwa wameendelea kutoa mchango wao kwa kushirikiana naye kwa karibu sana ili muziki wake ufike mbali zaidi. Brian Lorenzo also known as \'Uwezo\' is a Tanzanian artist who has had the love for music from a young age. Having this interest in music it was inevitable for Brian Lorenzo to come across RnB/hip hop.Being inspired by various artists, he realized that he could make music on a professional level.He therefore worked on his talent and is one of the most talented artists in the game right now.The multi-talented artist is both a rapper,singer and producer.He has recently been given credit for his projects by other big names.His music production is ahead of his time.Brian is a diamond in the rough,but its obvious he is destined to shine. ...
Read More...
Welcome to Mkito.com's new look. Let us show you around...
This is a song. You can see the image, song name, artists and you can interact with it by previewing, downloading or sharing it with your friends.
To listen to a 30 second preview of any song, you can click the preview button under the name of the song.
If you want to go through all the artists we have here on Mkito, you can click here to browse through our artists lists.
To look through our music by genre, you can click here and select a genre of your choice.
To download a song,you can click on the download button of the song you like. You must be logged in to download a song.
If you have an account with Mkito, you can sign in by clicking this link, which will open a popup window.
To use your email address or phone number to log in, click this button.
Enter your details and click the button to log in.
Or create a new account here
If you don't have an account with Mkito, you can sign up by clicking this link, which will open a popup window.
To use your email address or phone number, click this button,which will take you to the registration form.
To register as an artist, click here.
Type the name of the song or artist you would like to find and submit
or login using your social media account