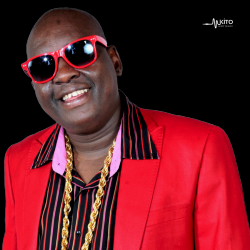 He started rapping in 1994 as a member of the group Hard Blasters, best known for their hit "Chemsha Bongo" (then he used stage name Nigga J) from their first album, "Funga Kazi". Only one year later, they won the title of best hip-hop group in Tanzania.
During his solo career which he started in 2001, he has released number of hits, including "Nikusaidiaje" and "Zali la Mentali (feat Juma Nature)". Other songs released by Professor Jay include "Piga Makofi" and "Yataka Moyo". Just like Mr. II, he is a pioneering Tanzanian MC, who have remained some of the most popular hip hop musicians in Tanzania, despite influx of many new bidders. Also similar to Mr. II his lyrics often have political messages. In one of his songs he imitates an elder politician and ridicules the fake promises they all mindlessly spew as they are trying to get elected. The song continues with a chorus saying the words "Ndio Mzee" which means "Yes Sir". This represents the brain washing of the public as politicians make these false promises over and over. It is interesting to note however, that after this song was produced, the president of Tanzania referenced the lyrics in one of his speeches, which acknowledged the presence of Bongo Flava and the success of Professor Jay's political lyrics.
His first album, "Machozi, Jasho na Damu," gained instant recognition for which Professor Jay won several awards. He attained other awards such as the best hip-hop album in Tanzania with his second album, "Mapinduzi halisi".
Professor Jay's songs include Nikusaidiaje (featuring Ferooz), Nimeamini (featuring Lady Jaydee), Inatosha (featuring Sugu), Vuta raha (featuring Ferooz), Border kwa border (featuring Nazizi), Heka heka za star, Interlude, J.O.S.E.P.H., Nisamehe (featuring Banana), Wapi nimakosea, Una, Hakuna Noma, Jina Langu, Bongo Dar es Salaam, Piga Makofi, Msinitenge, Sio Mzee, Zali la Mentali, Nidivyo Sivyo, Mtazamo (featuring Afande Sele and Solo Thang), Hapo Sawa. Professor Jay is featured on Nonini's song "Kumekucha"
His former group Hard Blasters is set for a comeback in 2009. The new lineup will consist of Professor Jay, Big Willy and Fanani. They will release a new album
Solo albums
Machozi Jasho na Damu 2001
Mapinduzi Halisi 2003
J.O.S.E.P.H 2005
Aluta Continua 2008
Awards
Won
2004 Tanzania Music Awards (Kilimanjaro Music Awards)- Best Hip Hop Album ("Mapinduzi Halisi")
2006 Tanzania Music Awards - Best Song (Nikusaidiaje)
2006 Kisima Music Awards - Best Tanzanian Song (Nikusaidiaje)
2007 Kisima Music Awards - Best Ugandan Song (Sivyo Ndiviyo with Chameleone)
2007 Pearl of Africa Music Awards (PAM Awards) - Best Male Artist (Tanzania)
2009 Tanzania Music Awards - Best
Songwriter
Nominated
2008 MTV Africa Music Awards - Best Hip Hop ...
Read More...
Albums
| Show all albums
Welcome to Mkito.com's new look. Let us show you around...
This is a song. You can see the image, song name, artists and you can interact with it by previewing, downloading or sharing it with your friends.
To listen to a 30 second preview of any song, you can click the preview button under the name of the song.
If you want to go through all the artists we have here on Mkito, you can click here to browse through our artists lists.
To look through our music by genre, you can click here and select a genre of your choice.
To download a song,you can click on the download button of the song you like. You must be logged in to download a song.
If you have an account with Mkito, you can sign in by clicking this link, which will open a popup window.
To use your email address or phone number to log in, click this button.
Enter your details and click the button to log in.
Or create a new account here
If you don't have an account with Mkito, you can sign up by clicking this link, which will open a popup window.
To use your email address or phone number, click this button,which will take you to the registration form.
To register as an artist, click here.
Type the name of the song or artist you would like to find and submit
or login using your social media account