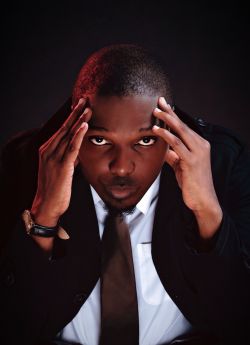 His parents named as Elias Banyenza, but now is famously known as Banye, He loves singing and he prefers RnB music as his music genre.He was born and raised in Dar es salaam, Tanzania he started singing from Sunday schools and Talent Shows but his passion developed more when he used to run to the TV just to sing along with Tyrese on this Coca-cola Tv Commercial in 1996.His face became familiar after achieving the following:-In 2014 he was among the top picked 6 to represent Tanzania on Maisha Superstar singing competition in Kenya, the program was aired on Maisha Magic where he competed with other 17 rookies from different part of East Africa, On this competition he was mentored by Shaa, AY(Tanzania), Jose Chameleon, Maurice Kirya (Uganda),Nameless, King Kaka(Kenya) and our Music Director was Eric Wanaina.In 2015, also he was among top picked 5 to represent Tanzania on Tecno Own The Stage singing competition in Lagos Nigeria, which was aired on Africa Magic Showcase where he competed with other 14 singers from other African Countries. On this competition they were mentored by Yemi Alade, MI, ID Cabasa (Nigeria), Bien Soul, Anto Neosoul(Kenya) and AY (Tanzania)His dream was to get into the music industry after winning any singing competition but unluckily he couldn't do it well simply because he was multitasking his corporate collar job, MBA studies and singing competition.His currently pursuing his music carrier by recording with different local producers for instance Nahreel and featured few famous artists but his first song is Brown Colour. ...
Read More...
Welcome to Mkito.com's new look. Let us show you around...
This is a song. You can see the image, song name, artists and you can interact with it by previewing, downloading or sharing it with your friends.
To listen to a 30 second preview of any song, you can click the preview button under the name of the song.
If you want to go through all the artists we have here on Mkito, you can click here to browse through our artists lists.
To look through our music by genre, you can click here and select a genre of your choice.
To download a song,you can click on the download button of the song you like. You must be logged in to download a song.
If you have an account with Mkito, you can sign in by clicking this link, which will open a popup window.
To use your email address or phone number to log in, click this button.
Enter your details and click the button to log in.
Or create a new account here
If you don't have an account with Mkito, you can sign up by clicking this link, which will open a popup window.
To use your email address or phone number, click this button,which will take you to the registration form.
To register as an artist, click here.
Type the name of the song or artist you would like to find and submit
or login using your social media account